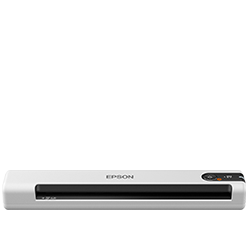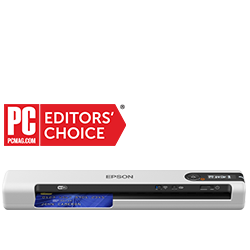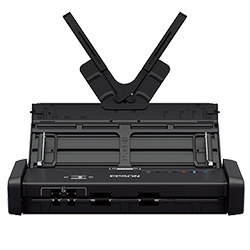 Key Model Feature
Mobile Color Document Scanner
Ideal for
Lightweight On-the-Go Scanning
Serious On-the-Go or Desktop Scanning
Scan Speed2
Up to 10 Pages per Minute
Up to 15 Pages per Minute
Up to 25 Pages per Minute
Creates Editable & Searchable PDFs
Yes - with Included Software
Yes - with Included Software
Yes - with Included Software
Included Software
Epson Scan 2, OpenText Captiva ISIS, Document Capture Pro, NewSoft Presto! BizCard
Epson Scan 2, OpenText Captiva ISIS, Document Capture Pro, NewSoft Presto! BizCard
Epson Scan 2, OpenText Captiva ISIS, Document Capture Pro, NewSoft Presto! BizCard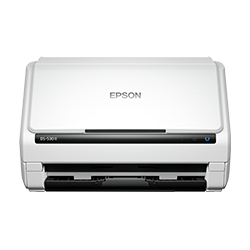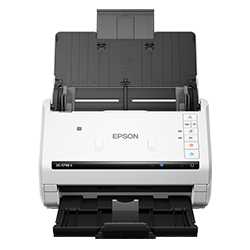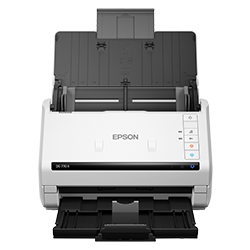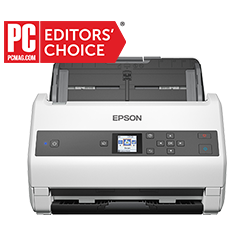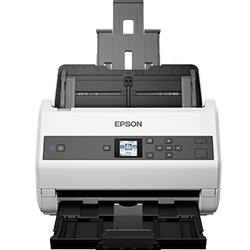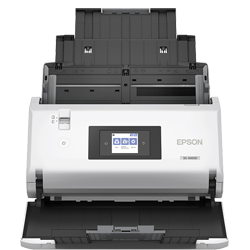 DS-530 II
DS-575W II
DS-770 II
DS-870
DS-970
DS-32000
Key Model Feature
Sheet Fed One‑Pass Duplex Color Scanner
Wireless Sheet Fed One‑Pass Duplex Color Scanner
Sheet Fed One‑Pass Duplex Color Scanner
Sheet Fed One‑Pass Duplex Color Scanner
Sheet Fed One‑Pass Duplex Color Scanner
Sheet Fed One‑Pass Duplex Color Scanner
Ideal for
Business Document Management
Business Document Management
Commercial‑Use Environments
Scan Speed2
Up to 35 Pages per Minute
Up to 35 Pages per Minute
Up to 45 Pages per Minute
Up to 65 Pages per Minute
Up to 85 Pages per Minute
Up to 90 Pages per Minute
Creates Editable & Searchable PDFs
Yes - with Included Software
Yes - with Included Software
Yes - with Included Software
Yes - with Included Software
Yes - with Included Software
Yes - with Included Software
Peak Daily Duty Cycle3
Up to 4,000 Sheets per Day
Up to 4,000 Sheets per Day
Up to 5,000 Sheets per Day
Up to 7,000 Sheets per Day
Up to 9,000 Sheets per Day
Up to 40,000 Sheets per Day
Connectivity
USB 3.0 & Optional Ethernet
USB 3.0, Wireless‑n & Optional Ethernet
USB 3.0 & Optional Ethernet
USB 3.0 & Optional Ethernet
USB 3.0 & Optional Ethernet
USB 3.0 & Optional Ethernet
Included Software
Epson Scan 2, OpenText Captiva ISIS, Document Capture Pro, NewSoft Presto! BizCard
Epson Scan 2, OpenText Captiva ISIS, Document Capture Pro, NewSoft Presto! BizCard
Epson Scan 2, OpenText Captiva ISIS, Document Capture Pro, NewSoft Presto! BizCard
Epson Scan 2, OpenText Captiva ISIS, Document Capture Pro, NewSoft Presto! BizCard
Epson Scan 2, OpenText Captiva ISIS, Document Capture Pro, NewSoft Presto! BizCard
Epson Scan 2, OpenText Captiva ISIS, Document Capture Pro, NewSoft Presto! BizCard
Warranty4
3‑Year Limited Warranty Next Business Day Replacement6
3‑Year Limited Warranty Next Business Day Replacement6
3‑Year Limited Warranty Next Business Day Replacement6
3‑Year Limited Warranty Next Business Day Replacement6
3‑Year Limited Warranty Next Business Day Replacement6
3‑Year Limited Warranty Next Business Day Replacement6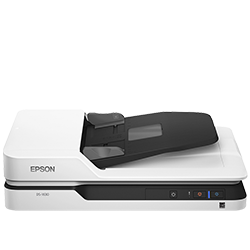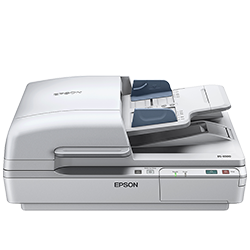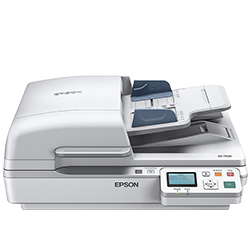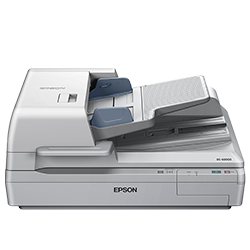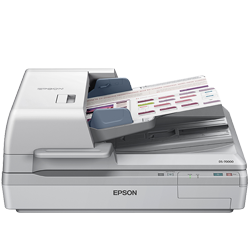 DS-1630
DS-6500
DS-7500
DS-60000
DS-70000
Key Model Feature
Affordable Flatbed ADF Duplex Color Scanner
Affordable Flatbed ADF Duplex Color Scanner
Affordable Flatbed ADF Duplex Color Scanner
Sheet Fed One‑Pass Duplex Color Scanner
Sheet Fed One‑Pass Duplex Color Scanner
Ideal for
Small Business Document Management
Workgroup Document Management
Workgroup Document Management
Scan Speed2
Up to 25 Pages per Minute
Up to 25 Pages per Minute
Up to 40 Pages per Minute
Up to 40 Pages per Minute
Up to 70 Pages per Minute
Creates Editable & Searchable PDFs
Yes - with Included Software
Yes - with Included Software
Yes - with Included Software
Yes - with Included Software
Yes - with Included Software
Peak Daily Duty Cycle3
Up to 1,500 Sheets per Day
Up to 3,000 Sheets per Day
Up to 4,000 Sheets per Day
Up to 5,000 Sheets per Day
Up to 8,000 Sheets per Day
Connectivity
USB 2.0 & Optional Ethernet
USB 2.0 & Optional Ethernet
USB 2.0 & Optional Ethernet
USB 2.0 & Optional Ethernet
Included Software
Epson Scan 2, OpenText Captiva ISIS, Document Capture Pro, NewSoft Presto! BizCard
Epson Scan 2, OpenText Captiva ISIS, Document Capture Pro, NewSoft Presto! BizCard
Epson Scan 2, OpenText Captiva ISIS, Document Capture Pro, NewSoft Presto! BizCard
Epson Scan 2, OpenText Captiva ISIS, Document Capture Pro, NewSoft Presto! BizCard
Epson Scan 2, OpenText Captiva ISIS, Document Capture Pro, NewSoft Presto! BizCard
Warranty4
3‑Year Limited Warranty Next Business Day Replacement6
3‑Year Limited Warranty Next Business Day Replacement6
3‑Year Limited Warranty Next Business Day Replacement6
3‑Year Limited Warranty Next Business Day Replacement6
3‑Year Limited Warranty Next Business Day Replacement6
Free Demo Scanner Trial
See for yourself why Epson has become America's Fastest Growing Scanner Brand of the Top 5 Scanner Brands. Based on eligibility, you're invited to participate in a 30-day trial evaluation program. If approved, choose either a DS-320, DS-530 II, DS-770 II, DS-770N, DS-870, or DS-970 document scanner.
1. The NPD Group, Inc., Retail Tracking Service and B2B Distributor Track®, U.S., Document Scanners, based on unit and revenue sales, Sept. 2018 - Aug. 2019

2. Based on letter-sized scans at 300 dpi in Black-and-White, Grayscale or Color Mode.

3. Peak daily duty cycle is the highest recommended number of scanned sheets per day. For best results, do not exceed the peak daily duty cycle.

4. For more information, go to www.epson.com/3yearscannerwarranty.

5. See your Epson Reseller for the latest pricing information.

6. Subject to limited warranty terms and conditions. Expedited shipping not available in all areas. Road Service orders must be in by 3 p.m. Eastern Time for Next-Business-Day delivery.

7. On select models

PCMag Editors' Choice and Rated Excellent logos are trademarks of Ziff Davis, LLC. Used under license. © 2019 Ziff Davis, LLC. All Rights Reserved.