GO BACK TO EPSON REBATE CENTER ►
Epson Rebate FAQs
Submitting your rebate
Where do I find the original UPC to submit with my rebate request?
The original UPC, the product bar code consisting of 12 numbers, is usually found on the bottom or inside flap of the box.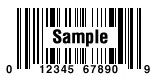 What is the serial number?
The serial number is a series of numbers (and sometimes letters) that's found on the product itself. The serial number is often located on a small sticker or metal plate affixed to the back or bottom of the product. The serial number is different from the UPC, which is located on the product package.
What is meant by the "purchase date" and "postmark date"?
The "purchase date" is the actual date on which the purchase was made, as printed on your receipt. The purchase date must fall during the specified date range on your rebate coupon. The "postmark date" is the date on which the post office processes and stamps your envelope. You will only qualify for a rebate if your envelope is processed by the post office on or before the specified postmark date.
Can I send a copy of my receipt and keep the original?
Yes. You can send a copy of your receipt, unless otherwise specified on the rebate coupon.
How can I apply for a rebate if I lost the original receipt?
To give you a rebate, we need a copy of the purchase receipt. If you paid with a credit card and know the exact date of purchase, most stores can reprint a receipt for you.
If there is a rebate on a product and I bought more than one, can I claim a rebate for each one?
Yes. Epson requires that you complete a rebate coupon for each product purchased. To find out the specific rules for the rebate, please review the promotion details on your rebate coupon.
The product that I purchased has two rebates. The manufacturer offers one and the store where I bought the product offers one. May I submit copies of the receipt and UPC instead of the originals?
Epson will accept copies of the store receipt or invoice, and the UPC. Most retailers will accept copies of the required information. See your store's rebate coupon for specific requirements.
I purchased a product online and did not receive a receipt. Can I still request a rebate?
Purchases made online usually include an e-mail confirmation, which includes the product information and the purchase price. For these purchases, the e-mail confirmation may be used as your receipt.
I forgot to send one of the required items with my rebate submission. What should I do?
Hold on to the item. You should receive a confirmation via mail or e-mail that you did not qualify for the rebate due to the missing information. The communication will also tell you how to resubmit your claim. We encourage you to resubmit your claim with the correct information within 30 days from the date of this communication. Be sure to include your name, address, phone number, promotion name and tracking number.
Who do I contact if a rebate offer does not appear on the Epson web site?
Please check your receipt to see if your place of purchase deducted the amount as an instant/in-store rebate. If not, please contact the store.
I submitted my rebate and still have questions
How long does it take to receive my rebate?
Please allow up to 8 weeks from when you send in your submission to receive your rebate. It can arrive sooner, but we ask that you wait the full 8 weeks to allow sufficient processing time.
It's been longer than 8 weeks and I still have not received my rebate. What should I do?
First, visit the appropriate rebate fulfillment website and confirm that your submission has been received and that we have your correct mailing address. If all the information is correct and 8 weeks have passed, please contact Epson to investigate your rebate. Please call us at 562-276-7200.
Why does Epson take so long to send my money?
Epson uses third-party fulfillment companies that specialize in processing rebates and similar promotions, and can handle them most efficiently. It takes some time for the rebate house to receive your claim, review the rebate materials, enter your information into the system, verify the claim is valid, process individual checks and mail individual payments to the rebate recipients.
I submitted all my rebate paperwork per the terms and conditions, but when I went online to check the status of my rebate, I was advised that my information is not in the system. Why is that?
There are several possibilties why the online system does not show your record:
The data you entered on the online rebate form might not match what you submitted on your rebate coupon. Check your online rebate form and your copy of the rebate coupon to verify the information you submitted. Then try again.
You might have not provided an e-mail address or phone number when you submitted your rebate coupon. Please enter only the required fields to do your search.
Your submission might have not been received by our rebate processing center yet. Please allow adequate time for delivery by mail plus about 10 business days for data entry.
The fulfillment house may not have entered your information correctly. If you think this is the case, please call Epson at 562-276-7200.
I have heard that companies only allocate a certain amount of money for any given rebate program, and if too many people claim rebates in that program, they won't fulfill them all or will find excuses to deny claims. Is this true?
We can't speak for what other companies do, but we do not pay our fulfillment house a predetermined amount of money that could possibly run out. Instead, we pay them based on the actual number of valid claims submitted. If someone feels their claim has been unfairly denied, we encourage them to contact us so that we can investigate and resolve the issue.
I found out that my rebate submission was not valid. What do I need to do to receive my rebate?
If your rebate is invalid due to missing information such as the UPC, serial number or other proof of purchase requirements, you may resubmit the missing information to the appropriate rebate center address. You should receive a letter, e-mail or postcard stating that your rebate is invalid. We encourage you to resubmit your claim with the correct information within 30 days of the date the letter, e-mail or postcard was sent. Be sure to include your name, address, phone number, promotion name and tracking number. If your rebate is invalid due to reasons other than missing information, please review the rebate requirements on the coupon or website. It is possible that the requirements were not met.
Other
I forgot to send in for my rebate and now it has expired. If I send it in late, will I be able to get my rebate?
Promotions such as rebates are carefully planned for very specific time frames. If the postmark date has passed for your rebate, unfortunately you will not qualify. Please be sure to send in for your rebate right away in the future.
Rebate status — who to Contact
For current Epson mail-in rebates:
Visit https://epson.com/estore-rebate
Call 1-800-277-6187.
Special requirements for products purchased at specified or certain retailers
BJ's Wholesale Club®
Please submit your rebate through BJ's Wholesale Club as instructed on the coupon or proof of purchase that you received from BJ's. For rebate status:
Visit http://www.bjs.com/bjs-rebate-center.content.member_rebates.A.join_consumer
Call BJ's Wholesale Club at 1-877-776-8484.