text.skipToContent
text.skipToNavigation
Moverio BT-300 Smart Glasses (AR/Developer Edition)
Zoom In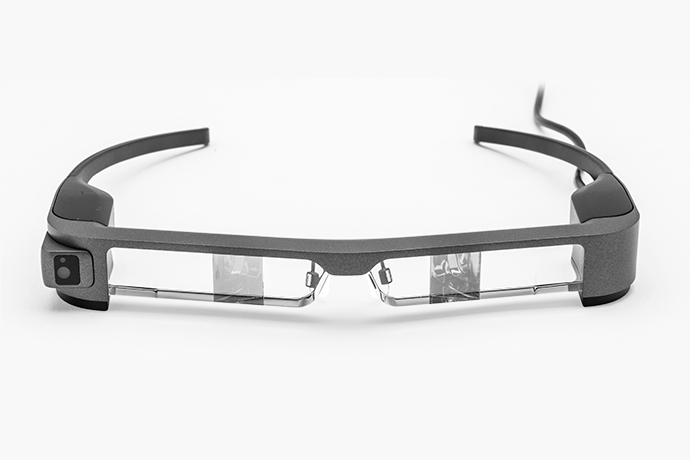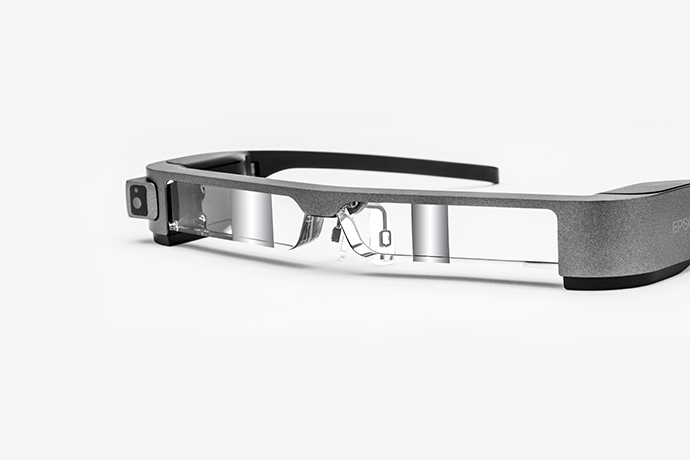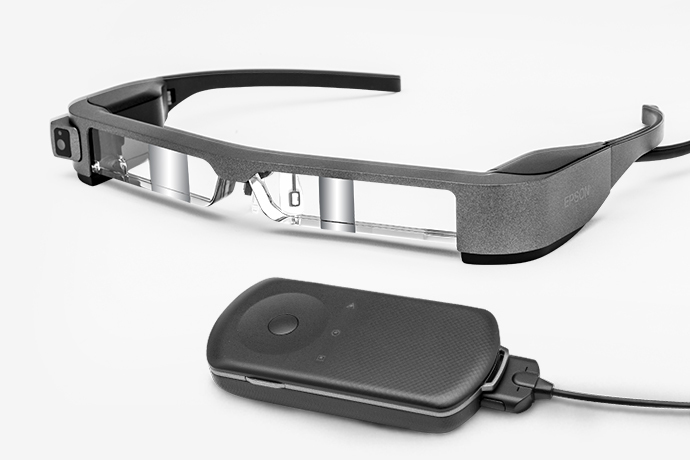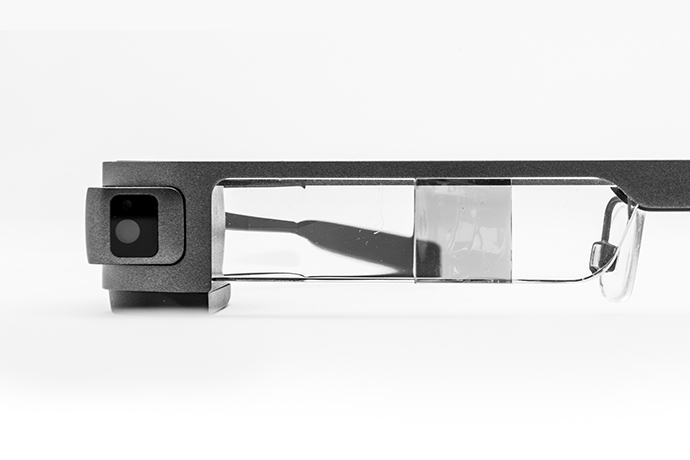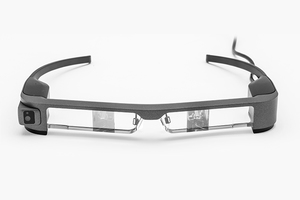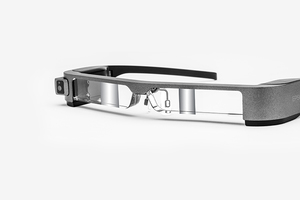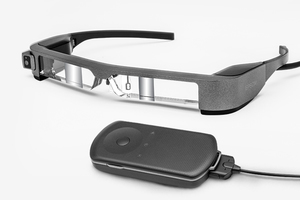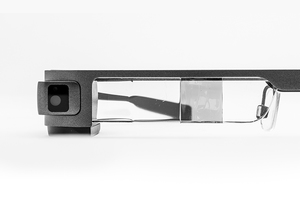 Smart glasses with superior transparency for augmented reality.
Experience a new way of seeing the world with the revolutionary Moverio BT-300 smart glasses from Epson®. These highly transparent glasses redefine augmented reality (AR) with a groundbreaking Si-OLED display. Superior transparency, plus a high-resolution camera, ensures seamless integration of digital content with the outside world. Ultra light and comfortable to wear, even over prescription glasses, the BT-300 features a binocular display, making it ideal for side-by-side 3D content. With wireless and Bluetooth® Smart (BLE) connectivity, it supports a wide range of accessories. Powered by an Intel® Atom chipset, running Moverio OS, the BT-300 is the ideal platform for developing AR apps.
Moverio BT-300 Smart Glasses (AR/Developer Edition)
is rated out of
5
by
11
.
Rated

5

out of

5
by
Torwell_X
from
The Moverio BT-300 (AR/DEV Edition) ... IS... EPIC.
I am colorblind. I am Red & Blue deficient. I am a Professional Recording Artist. I am an Honorably Dishchar Military Vet. I have sustained long term injuries. What does any of this have to do with the Epson Moverio BT-300 (AR/Dev Edition?) I had scoured the globe searching for a viable and effective pair of intelligent smart glasses...never realizing that this product even existed. I am also a "tinkerer...an analyst...and a Man without ceasing to assist the homeless in my community." The MBT-300 AR/DEV smart glasses are now assisting me in building viable and USABLE REAL WORLD apps to apply to my hopes that one day...I may do more to not only assist my own Physicians in my OWN life care...but also to be able to assist those with no health care at all...in essence...I do not fly drones with it...I aim to build apps and "Critical Care" future technologies that would be of ( Hopefully ) use to my fellow Vets...most homeless where I reside at this point...and also to show my City Council that there IS a better way to assist those who cannot speak due to illness...language barriers...and/or...basic life detriment. I wish I could say I know more about this MOST AMAZING piece of technology...however...I do believe that time will afford me that opportunity. It is TRULY my Honor to be a part of the Epson Moverio Family...and who knows...maybe one day I'll take a break...and try to fly a drone...we all need a good hobby...and I am never one to shy away from fun...when I am able. Epson...Thank you for existing. Respectfully, Torwell_X
Date published: 2018-06-19
Rated

5

out of

5
by
fotoFly5
from
SO FAR, I'M IMPRESSED . . . !
I purchased the MOVERIO BT-300 FPV Drone Edition smart glasses to "fly" my new MAVIC AIR drone with. I am still setting everything up and haven't actually flown, yet, but I am IMPRESSED with TECHNOLOGY, VERSATILTY and QUALITY of the BT-300s. I am ANXIOUS to get my first "drone's eye" view while flying my MAVIC AIR and wearing my BT-300s ! So far, it has been EASY for me to view BOTH the real world scenes AND virtual data projected before my eyes simultaneously.
Date published: 2018-02-04
Rated

5

out of

5
by
Anonymous
from
Excellent For My DJI Inspire 2
I Purchased the BT300 to use with my DJI Inspire 2 and i could not be more happier!! I'm able to see all my setting and still keep my LOS of my Inspire 2, easy to set up and use. I highly recommend this item!!!
Date published: 2018-01-17
Rated

5

out of

5
by
TalkingRabbit
from
VERY REVOLUTIONARY
The Moverio BT-300 is the NEXT...BIG...THING! As we are going through the second industrial revolution, the Moverio BT-300 functions very perfectly and acts as if it is an extension of your Mind. With HD quality vision, it has all the features of a typical android operating system, albeit you giving orders to it in order to access certain apps. Not to mention its very comfortable features that once you wear the Moverio BT-300, you will forget that you are wearing them! Definitely recommended for those who have very busy lives or whoever is interested into this new kind of technology.
Date published: 2017-12-31
Rated

5

out of

5
by
Rick061
from
Moverio BT-300
I bought this to fly mr DJI Mavic Pro. Haven't tried yet but looks great. Works perfectly. I'm going to enjoy.
Date published: 2017-12-29
Rated

4

out of

5
by
malekoone
from
interested on trying
this glass has lots of bells and whistles.
Date published: 2017-11-28
Rated

3

out of

5
by
Maui Zoom
from
Good Product
After using the Moverio BT200 for 3 years I updated. pros : great screen good fit works good with Bluetooth keyboard works with my Phantom 2 AND 3. cons : sliding from the touchpad into the buttons makes for hectic browsing and navigating when the drone is in the air.... (a rubber band at the border between buttons and touchpad helps me a lot ) Still no Google certification, how hard can it be ? Android 5.1 how come you have a product so advanced with an old version of Android and no Google integration ? Hoping for amazing system update.
Date published: 2017-07-21
Rated

4

out of

5
by
VReadyNow_Dev
from
Promising future
we got it a month ago and we already have a prototype app for Oil & Gas up and running. The Unity SDK is strong enough for real world apps. As usual it has some of the Android related issues when used outside the smartphone/table world but nothing that couldn't be overcomed with some custom code. Some features that may need work: battery charging time ( 5hours for full charge???), brain (side unit) gets really hot, no speakers built in the glass ( must use earphones). Other than that, the Moverio 300 is one of the more solid smart glasses platforms for AR apps today.
Date published: 2017-02-16
Rated

1

out of

5
by
Ismail
from
Bt-300 BLE problem. No Google store support. Google services
Can not believe this. Just got my unit. It can not connect to Bluetooth BLE!!!!!!! It dose not seem to support the Google service pack which support google apps such as google earth. There is no gooogle App Store on it. When you connect to wifi and login to the google app market place it won't recognize the Moverio as a device to have apps downloaded on it. I managed to download an APK of an app (XcSoar) that I used to run on my BT-200. The app installs ok on by-300 by using apk but after installation you notice that the menu botton and the writings for settings on the app are so small , it is literally size 1 font. No way to be able to read them.
Date published: 2017-02-16
Rated

5

out of

5
by
GameChangerPro
from
Simply amazing!
You have to see it to believe it.
Date published: 2017-02-08