text.skipToContent
text.skipToNavigation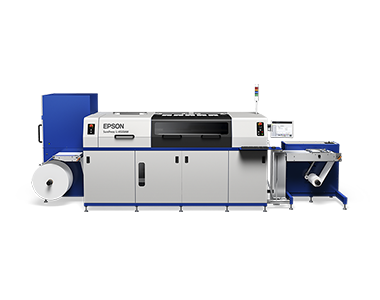 SurePress L-4533A and AW
The turnkey solution you need to enter the world of digital label printing
Print speeds of up to 16' (5m) per minute
Resolution: 720 x 720 dpi using MicroPiezo® inkjet technology
Automated press operation and maintenance
High gamut resin/water based inks work on standard flexo medias
Special feature: Affordable white ink press for labels and unsupported films
5 reasons to choose Epson Label Printers
1. Reliable performance
World-renowned Epson print head, ink and design technologies yield unmatched quality and durability.
2. Superior image quality
PrecisionCore® technology delivers vibrant precise colors, smooth gradations, ultra-sharp text and accurate bar codes.
3. Total product range
Epson is the only company offering a complete line from small desktop units to full industrial presses.
4. Low operating cost
Extreme long-life head technology, low ink prices and high speeds provide significant cost savings.
5. Durable labels
Water resistant labels won't smudge, smear or fade.
Explore label print technologies
SurePress Digital Label Press provides a faster turnaround and accurate labels for Label Print Technologies, LLC.
Ranger Label
Epson SurePress provides shorter production times and lower costs for Ranger Label, a Mississippi-based company.
Graphic Image Label
Graphic Image Label, a custom prime label printing company, uses the Epson SurePress to provide quality and consistency to customers.
Labeltape Group
Epson Digital Label Press delivers color accuracy and performance to Labeltape Group, a Michigan-based company.
Explore HazCom and color package labeling products
Epson also offers easy, high-quality HazCom label printing that is waterproof, smudge-proof, alcohol and chemical resistant with BS56090-certified proof of durability. In addition, our color package labeling solutions can increase profitability and reduce costs while creating exceptional color labels on demand.
Learn More
COLOR PACKAGE LABEL PRINTING
1. Printing in full 1200 x 600 resolution with flush‑onto‑paper mode enabled. With flush‑onto‑paper mode disabled, print speed is up to 10.4" per second.