text.skipToContent
text.skipToNavigation
Amazing Color
Illuminating the AV needs for your service
All Epson projectors feature 3-chip LCD technology for amazing color, incredible detail and solid reliability. The 3LCD's 3-chip architecture dedicates an entire chip to process each primary color: red, green, and blue, unlike single-chip technology that can only deliver color sequentially. The result is vibrant, realistic images and video delivered with 3LCD's true-to-life color.
Learn More About 3LCD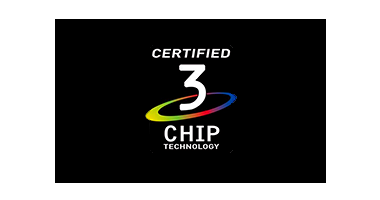 No Rainbow Effect
Projectors with only 1-chip DLP technology use a rotating color wheel to project color sequentially, which causes some viewers to see a phenomenon known as the "Rainbow Effect." Epson's 3LCD projector technology effectively eliminates the Rainbow Effect by being able to simultaneously generating red, green, and blue light.
Epson Wireless Projectors
Whether you're in the classroom, the conference room, or at home, Epson wireless projectors allow you to quickly and easily share content wirelessly from your laptop and mobile devices.

Learn More
iProjection App
iProjection enables web browsing within the app using a full-featured web browser. You can project web pages while enjoying high quality images on the big screen and using a web browser with standard controls and options (bookmarks, history and more).
Learn More
E-TORL Lamp Technology
Most Epson projectors utilize Epson's exclusive E-TORL lamp technology, which extends the life of E-TORL lamps and reduces the number of replacement lamps needed. The special E-TORL design minimizes both light diffraction and light leakage for up to 50 percent more lamp life than competitive products—while costing up to $150 less.

Watch Video
Create brilliant, colorful displays with projection mapping
See how recent advances in projector technology have made projection mapping possible in large and small venues.
READ CASE STUDY
Projector buying guide
Get answers to common projector purchasing questions and considerations including terminology, features and other important considerations. You can also select and compare product features using the Epson Projector Finder tool.
LEARN MORE
*Compared to leading 1-chip DLP business, education and home entertainment projectors. For home entertainment, Epson 720p projectors are 3x Brighter; Epson 1080p projectors are consistently 2x and up to 3x Brighter. Based on NPD data, July 2011 through June 2012. Color brightness (color light output) measured in accordance with IDMS 15.4. Color brightness will vary depending on usage conditions.
1. Among people who had a preference, 9 out of 10 preferred images from leading Epson projectors over leading 1-chip DLP business and education projectors. Leading projectors selected according to NPD data as of July 2013. Based on independent U.S. research conducted by Radius Research (July 2013).