text.skipToContent
text.skipToNavigation
EcoTank ET-2720 All-in-One Supertank Printer - Black
Zoom In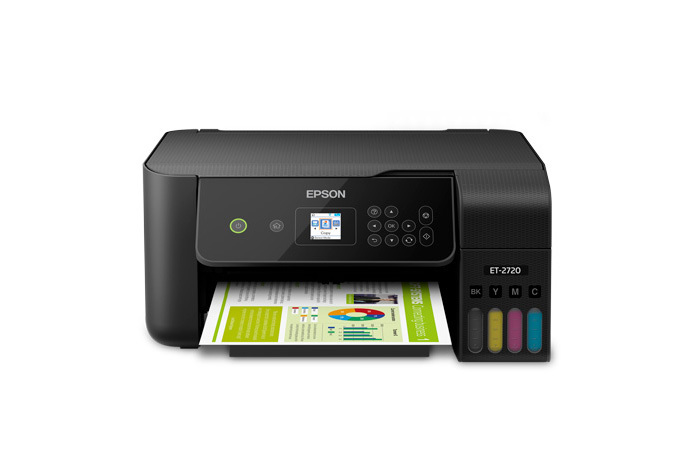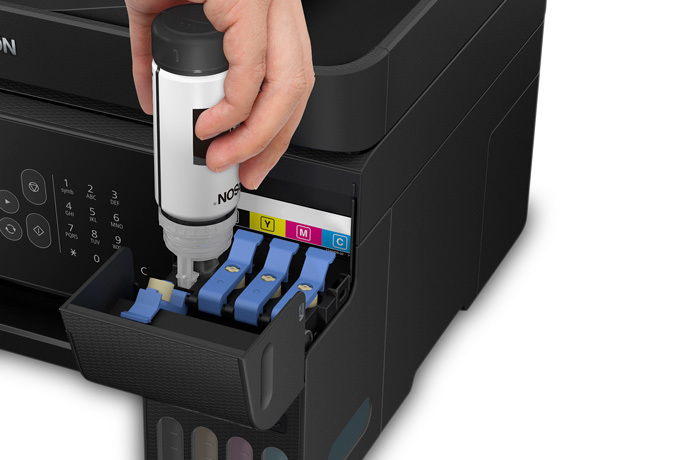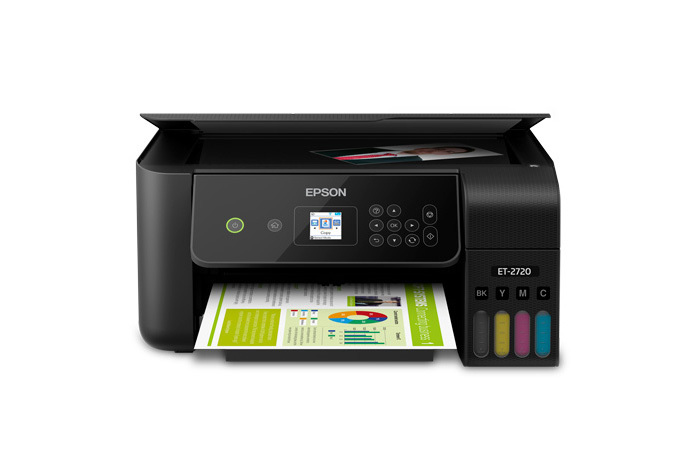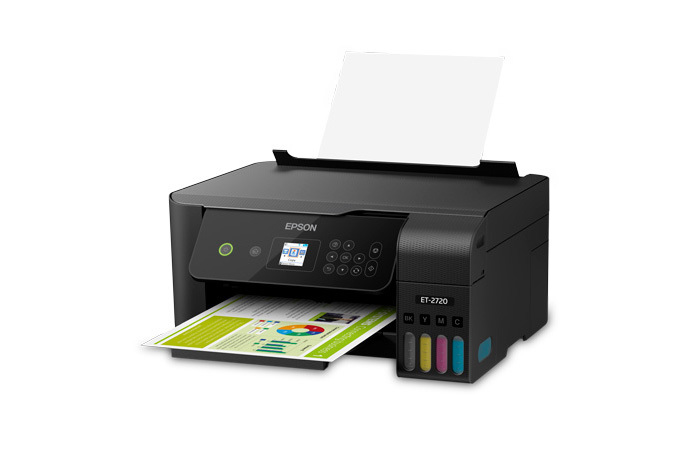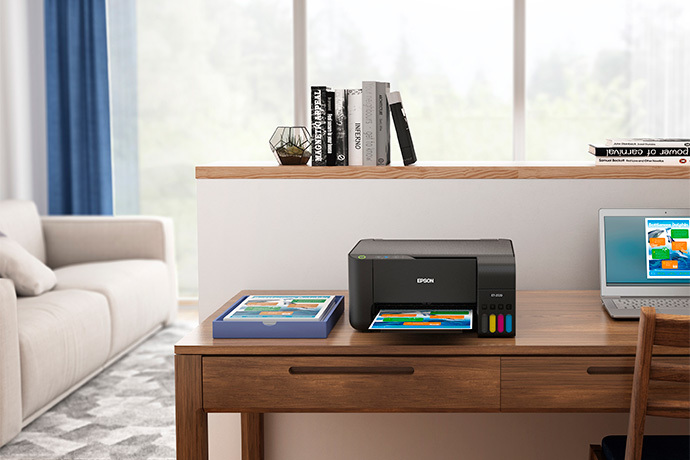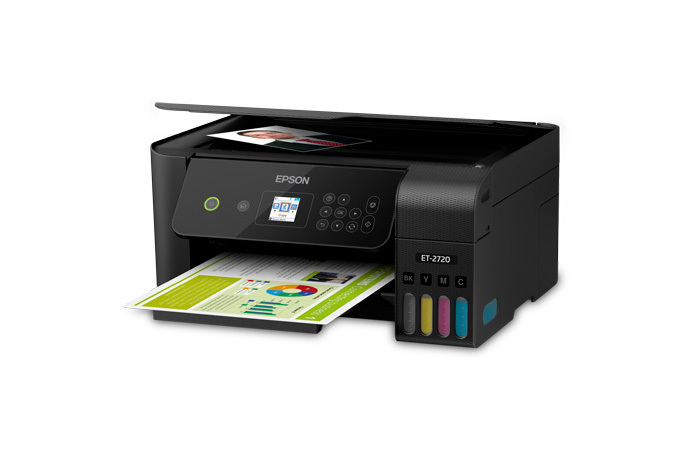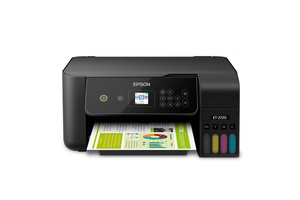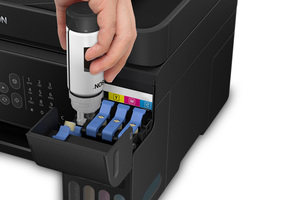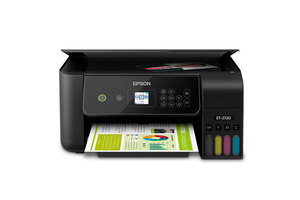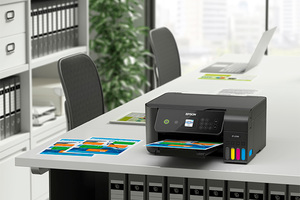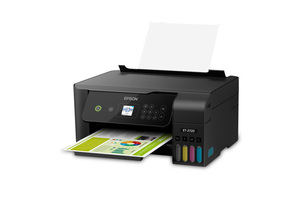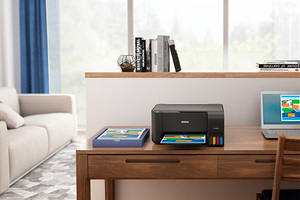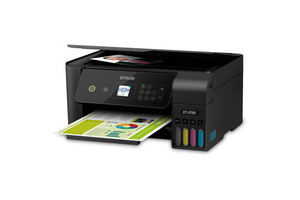 The wireless all-in-one for cartridge-free home printing.
The EcoTank ET-2720 wireless all-in-one supertank printer offers cartridge-free printing with easy-to-fill, supersized ink tanks. You get up to 2 years of ink with each included or replacement ink set1. And, each replacement ink bottle set includes enough ink to print up to 4,500 pages2 — equivalent to about 80 individual cartridges3. Plus, you save up to 80 percent with low-cost replacement ink bottles vs. ink cartridges4. That means less waste. Exclusive uniquely keyed EcoFit™ bottles make it easy to fill each color tank. This premium white printer also offers convenient wireless printing from tablets and smartphones5, plus a 2-year limited warranty with registration6.
3-in-1 with Wireless: Print / Copy / Scan
Ink: Four EcoTank™ Ink Bottles
ISO Print Speed: Black: 10.5 ISO ppm†; Color: 5.0 ISO ppm†
Also available in White

Model:

C11CH42201
EcoTank ET-2720 All-in-One Supertank Printer - Black
is rated out of
5
by
17
.
Rated

1

out of

5
by
Newellorbana
from
Garbage Don't buy.
Almost impossible to set up. Every time the power goes off, you'll need hours to make it run again.
Date published: 2020-03-21
Rated

1

out of

5
by
Jake Spoon
from
Not reliable
If you do not print regularly (one a week or so at least) the print heads will dry out and you have to go through a painful process to get it working again. I suspect that is the source of some of these bad reviews. Latest firmware update caused an error that bricked the printer entirely, and so far Epson support (under warranty) has not been responsive to help solve the problem or replace the printer.
Date published: 2020-03-18
Rated

2

out of

5
by
Jonny12345
from
Great printing but miserable interface
This printer has a screen that is about 1 inch square. It almost unreadable. It has proprietary glyphs that are hard to see and a miserable text input system. It works great for weeks and suddenly stops working and needs the network password or needs a firmware update which it refuses to take and then needs a network password. It can take an hour or more to enter a wireless password and get the thing working after it has one of its spells. You need a magnifying glass and a lot of patience to keep this thing working.
Date published: 2020-03-13
Rated

2

out of

5
by
Jt20
from
Too much hype
I bought this about a month ago. This printer does not do double sided print. Which I believe is about wasteful and it doesn't allow you to manually do it as well.
Date published: 2020-03-11
Rated

1

out of

5
by
Anonymous
from
ET-2720- Poor Product
Unit failed to print properly after printing just 270 pages. Technical support on the web was useless and wait time has exceeded 15 minutes and still counting. Staples refused to accept a return since it was beyond 15 days.
Date published: 2020-03-09
Rated

1

out of

5
by
Guli
from
problem in print
I bought it 2 month ago, but now it is not printing now. There are ink but paper printing white!!!!!
Date published: 2020-03-09
Rated

1

out of

5
by
poppy1577
from
stupid
I have had this machine for a little wile now. I think that the machine should be sent to the outhouse. It doesn't do anything that you want. reg paper have the wrong settings and don't try to change the paper size or the paper gets stuck under the covers. I think that it sucks and will never buy another one
Date published: 2020-02-25
Rated

4

out of

5
by
Rose_7432
from
ET-2720 model Does NOT double sided print
I purchased the ET-2720 model. I am a HP Printer User. This is the first time I use EPSON. This is my opinion on Epson. PRO: Fast printing and quality is great! It's a good printer does a great job saving you money with ink, yes, it's economically beneficial. CONS: Price is steep for it not having double-sided printing feature. This is a must have feature for me. So I am bummed =(
Date published: 2020-01-13
Rated

5

out of

5
by
Mistyrose912
from
A printer that gets the job done.
I am impressed with this printer so far . It is an Ecotank which i do not have mich expwrience with at all ,being this is my first one . I am used to ink cartridges , these are ink bottles that you have to fill the tank with . This was easy and different than what i am used to .Setting the printer up was easy, the instruction manual was clear and easy to follow . It also connected to wifi quickly , i just wish there was an easier way to input my wifi password . The printer itself i was expecting it to be heavy like my previous printer , suprisingly it was light and easy to lift and move. I dowloaded the Epson Iprint app on my android phone and it quickly found the printer and was ready to print . The first thing i printed out was a picture on printer paper and it printed easily through the app , no wires or computer needed . The photo came out vibrant and the ink on the paper was dry and it printed quickly. I then printed some word documents and they came out clear and bold with color and vibrance . I like that the ink levels are always visible and on display . The ink itself after printing 24 pages already have not dropped , i feel the ink is longer lasting and i will not have to replace for a while .The wireless printing compatability is a great feature and convenient ,it makes printing from my phone quick and i have not had any issues with the Epson iprint app so far . The display screen on the printer is bright and easy to understand and control , it even extends out . I am enjoying using the printer . It does not take up much space on my desk ,no clutter with wires. The printer is designed nicely and looks professional and performs great and hassle free with daily use . This is a review for the Epson EcoTank ET-2720 All-In-One Supertank Printer that I received free of charge to do a beta test and review.
Date published: 2019-05-20
Rated

5

out of

5
by
darlene0307
from
Save the most money with this printer.
If you are looking for a great printer, here it is. I love my printer. I have printed so many pages on this printer and still have so much ink left. I have printed many pictures too. You know how quickly most printers go through ink when you print pictures, well I am very impressed with this one. Not only will it save me money on the ink, but also the pictures it prints is very high quality. It was very easy to set up and I can print from anything wireless, and you can do it from anywhere if you want to. Not just when you are at home with the printer. This has the ability to print when you are away from home. I find that so awesome. I do not ever forget to print important documents since I can do it from anywhere. Do not worry about spilling ink either. I was worried about getting ink everywhere since it comes in a bottle, but after setting it up I seen that was impossible. The inkbottles come with a nozzle that connects to the printer for the ink to start coming out of the bottle. You can turn the bottle upside down and nothing comes out until you put it into the printer. It is awesome. So if you are looking for a printer that is easy peasy to hook up and print wireless you should really give this one a look. You will love the price too and refills for the ink will not cost as much either, so it is a win in my opinion. This is a review for the Epson EcoTank ET-2720 All-In-One Supertank Printer that I received free of charge to do a beta test and review.
Date published: 2019-05-20