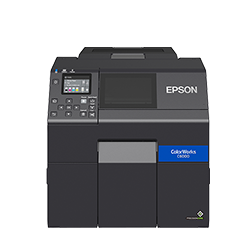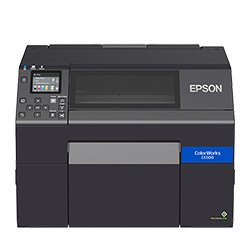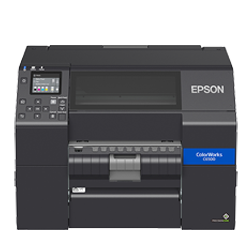 COLORWORKS
C6000A
COLORWORKS
C6000P
COLORWORKS
C6500A
COLORWORKS
C6500P
Key Model Feature
4-Inch Printer with Cutter
4-Inch Printer with Peel-and-Present
8-Inch Printer with Cutter
8-Inch Printer Peel-and-Present
Best For
Replacement for Existing B&W Barcode Printer
Replacement for Existing B&W Barcode Printer
Replacement for Existing B&W Barcode Printer
Replacement for Existing B&W Barcode Printer
Print Modes
Black & White and Full Color
Black & White and Full Color
Black & White and Full Color
Black & White and Full Color
Ink Type
UltraChrome DL Pigment Ink
UltraChrome DL Pigment Ink
UltraChrome DL Pigment Ink
UltraChrome DL Pigment Ink
Compatibility
SAP, Windows, Mac OS, Linux
SAP, Windows, Mac OS, Linux
SAP, Windows, Mac OS, Linux
SAP, Windows, Mac OS, Linux
Connectivity
Gigabit Ethernet & USB 2.0
Gigabit Ethernet & USB 2.0
Gigabit Ethernet & USB 2.0
Gigabit Ethernet & USB 2.0
*See your Epson Authorized Reseller for the latest pricing information.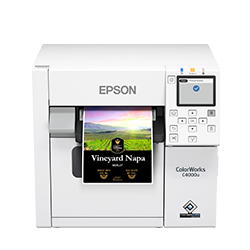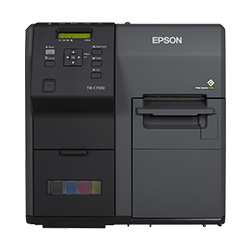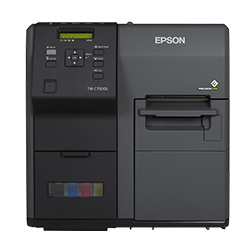 COLORWORKS
C4000
COLORWORKS
C7500
COLORWORKS
C7500G
Best For
Industrial, ID badges, Healthcare & Pharmacy, Retail, Food & Beverage
Heavy production of GHS, industrial, and prime labels on matte media
Heavy production of prime and industrial labels on gloss media
Print Head
Epson PrecisionCore®
Epson PrecisionCore TFP Linehead
Epson PrecisionCore TFP Linehead
Printer Speed
Up to 11.8 Inch per Second
Up to 11.8 Inch per Second
Compatibility
SAP, Windows, Mac OS, Linux
Connectivity
Ethernet, USB 2.0, WiFi optional
10/100 Base-T Ethernet & USB 2.0
10/100 Base-T Ethernet & USB 2.0
ColorWorks Printers for
GHS, Industrial, Healthcare & Prime Label
Testimonials & Case Studies
Epson Compatible Media
Epson-compatible media is manufactured by industry-leading companies; meets media specifications for ColorWorks printers; and meets the basic standards of image quality, smudge resistance and water resistance.
Use our interactive Media Finder to find media options that meet your needs! You can also request a quote from one of our authorized converters.
1 The CW-C6000/C6500 family is the first to bring to market the combination of features of direct ZPL II printing, peel-and-present, remote printer management, companion four- and eight-inch models, applicator I/O interface, broad middleware support, and comparable price points.
2 Printers and consumable costs are similar when comparing similarly featured leading brand thermal transfer printers and supplies for similar high durability images on similar media.
3 Printing in Max Speed Mode, 300 x 600 dpi, 3.5" (89mm) print width.
Thank you for your interest in Epson. To subscribe and receive promotional emails, please visit Epson Global to find your local site.