Ultra Premium Presentation Paper Matte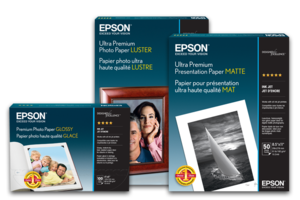 Epson Ultra Premium Presentation Paper Matte
For photographers seeking a flat matte surface, Ultra Premium Presentation Paper Matte is the ideal choice. This bright white paper is perfect for images that do not require gloss. It yields highly saturated images, while maintaining excellent highlight and shadow detail. Designed primarily for use with UltraChrome™ Inks, EPSON Archival™ Inks, and DuraBrite™ Inks, this versatile paper can also be used with dye-based inks. Hobbyists, professional photographers and digital artists alike will find Epson Ultra Premium Presentation Paper Matte a remarkable solution for any project.
Paper Specifications:
Flat matte surface provides the optimum photographic platform
Instant drying capability with EPSON Professional Inks allows for easy handling
High color gamut yields remarkable color reproduction
1440 dpi printer compatibility ensures high resolution output
Heavyweight stock delivers true photographic feel (for roll paper printing)
Bright white base accentuates highlights
Thickness: 10.3 mil
Brightness: 104
Profile Information
Supplied with Standard Epson Driver.
Thank you for your interest in Epson. To subscribe and receive promotional emails, please visit Epson Global to find your local site.
Our system shows that the email that you entered might be incorrect or undeliverable. Please confirm your email address is correct before continuing. Email should be a name@domain.com format with no space before or after.