Bringing Innovation to Industries Everywhere
With a proven track record of delivering cost-effective innovation to new and existing markets worldwide, Epson has become an industry leader in solutions that support success.
Explore Products that Support Your Bottom Line
Featured Technology
As one of the top global intellectual property patent holders, Epson technologies are at the forefront of innovation for industries around the world.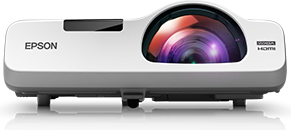 Epson's Color Brightness
Epson projectors have up high color brightness* than leading 1-chip digital light projector (DLP) technology projectors. 3LCD technology uses 3 chips to deliver vibrant, true-to-life and consistent images, unlike 1-chip DLP projectors that use a color wheel—so there is no trade-off between white and color brightness.
*Color brightness (color light output) and white brightness (white light output) will vary depending on usage conditions. Color light output measured in accordance with IDMS 15.4; white light output measured in accordance with ISO 21118.
Thank you for your interest in Epson. To subscribe and receive promotional emails, please visit Epson Global to find your local site.
Our system shows that the email that you entered might be incorrect or undeliverable. Please confirm your email address is correct before continuing. Email should be a name@domain.com format with no space before or after.