text.skipToContent
text.skipToNavigation
EcoTank ET-2760 All-in-One Cartridge-Free Supertank Printer
Zoom In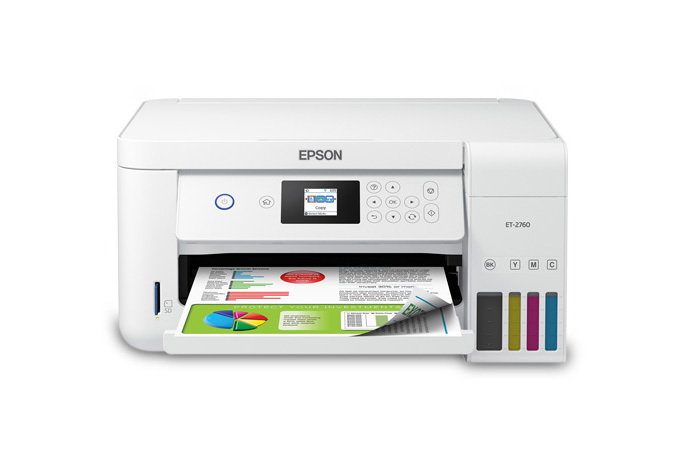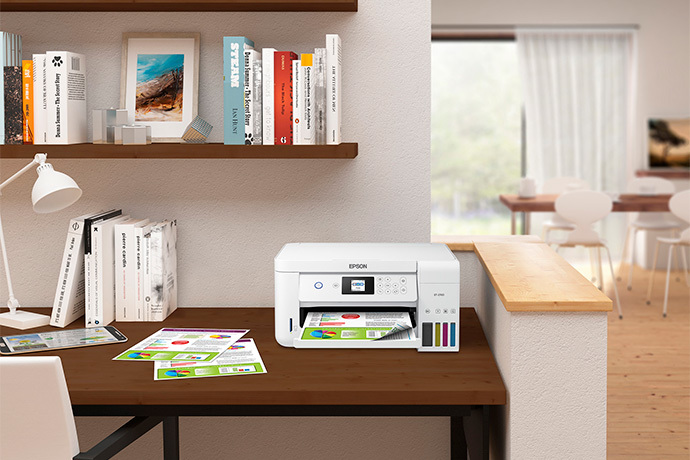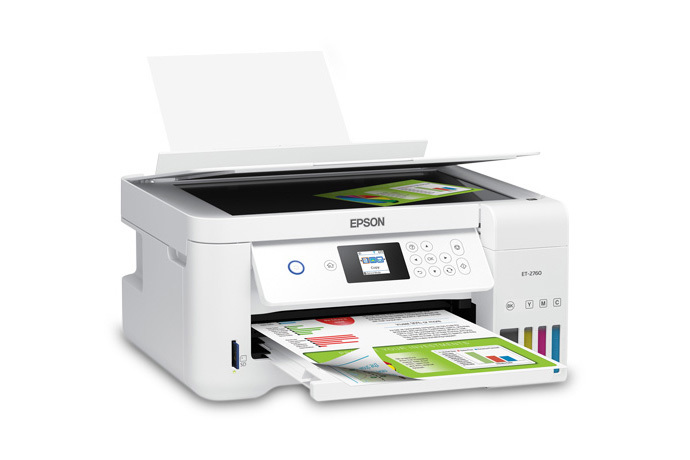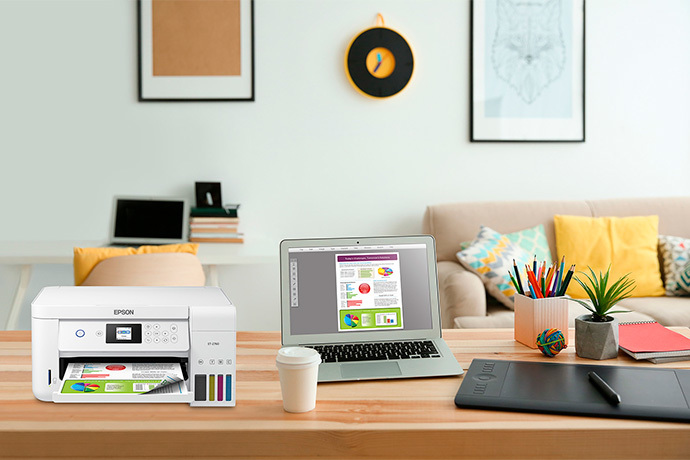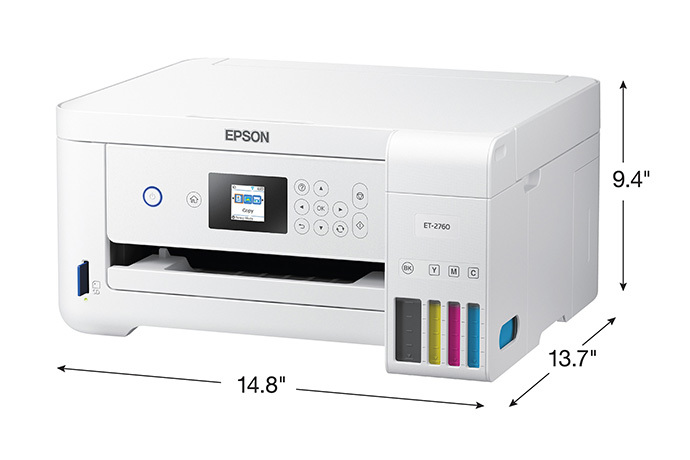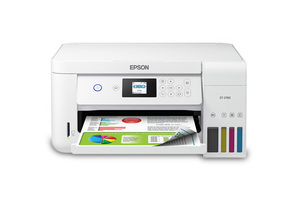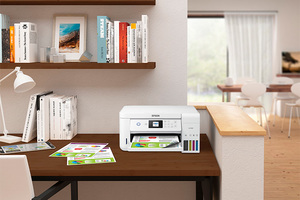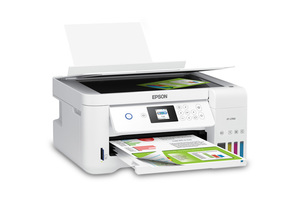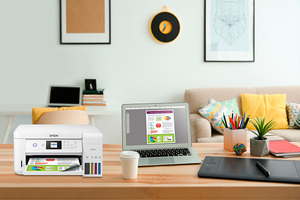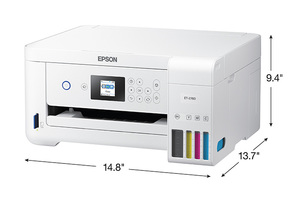 The wireless Cartridge-Free all-in-one with auto 2-sided and voice-activated printing7.
The EcoTank ET-2760 offers Cartridge-Free Printing with easy-to-fill, supersized ink tanks. You can save up to 90 percent with low-cost replacement ink bottles – costing as little as 1 cent per color ISO page versus 20 cents with ink cartridges1. Plus, you can get up to 2 years of ink with the included or a replacement ink set2. Each replacement ink bottle set includes enough ink to print up to 7,500/6,000 pages (bk/clr)3 – equivalent to about 80 individual cartridges4. That means less waste and fewer trips to the store. Exclusive uniquely keyed EcoFit™ bottles make it easy to fill each color tank. You also get auto 2-sided printing and a 1.44" color display and wireless connectivity.
3-in-1 with Wireless: Print / Copy / Scan
Ink: Four EcoTank Ink Bottles
ISO Print Speed: Black: 10.5 ISO ppm†; Color: 5.0 ISO ppm†
Also available in Black

Model:

C11CG22203
After 27% savings:
$219.99
EcoTank ET-2760 All-in-One Cartridge-Free Supertank Printer
is rated out of
5
by
51
.
Rated

1

out of

5
by
MollyMae
from
Experiencing too many problems
I received my printer and was excited to hook it up. Hook up was a breeze. A week later it has gone off line and I can not figure out how to reconnect it. The screen on the printer is so tiny it is almost impossible to read it and to make out the symbols they are telling me to hit. Now it says new software available at the set up menu. However, every button I hit says invalid.
Date published: 2020-03-28
Rated

5

out of

5
by
sugarlandbill
from
Ink lasts forever and quality printing
I have the older version ET-2750. I have had it for over 2 years. The only thing I can say on the down side is you need to use the printer or you will have to deep clean the heads. But if use it 3 or 4 times a week, it will print clean and fast. And you cannot beat the cost of the ink.
Date published: 2020-02-18
Rated

1

out of

5
by
thisprintersucksep2760
from
DONT BUY
idea is cool but the set up was a ABSOLUTE nightmare. I am so frustrated because it took me forever to set up and then when it was it said for a regular .doc it couldn't print double sided. It literally took me 3 days to set up and I am somewhat good with tech. may its just mine but I would definately NOT recommend. Honestly super frustrated.
Date published: 2020-01-29
Rated

2

out of

5
by
work from home
from
Great Ink design/ slow
We were so tired of buying ink cartridges, and so happy with the ink capabilities of this Epson. The paper feeder never recognizes the paper, and it is painfully SLOW! Don't count on printing anything as you walk out the door. Plan ahead with this machine :)
Date published: 2019-12-07
Rated

1

out of

5
by
benchwarmer
from
piece of junk!!!!!
We do not print much, for home use only, most days do not print anything. This new printer lasted less than two months. Customer service could not help, sent printer back. Epson would not refund money, would only replace printer. Hope second one works better than the first. Replacement process was a real hassle.
Date published: 2019-12-06
Rated

1

out of

5
by
LouRiz
from
Paper Feeder is WORTHLESS!
I love this printer except for the paper feeder. No matter how much I fan the sheets, tap the edges, reset the guides, etc. it continually tells me that I am out of paper. I am about at the end of my rope and will probably have to return it even though I love the ink usage. For that reason alone, I cannot recommend this printer--my blood pressure won't let me.
Date published: 2019-10-02
Rated

1

out of

5
by
dianel
from
Print Heads not Printing Good Images
Had the printer for less than a year, we were told it was a Photo printer, it does not do a very good job of photos, I now have to buy one that will do a nice job of photos, it has done this from new out of the box. The print heads are not printing, the printer is less than a year old and it is used regularly, it is leaving big lines across the pages, every couple of inches. I have cleaned the print heads several times and it has not fixed or even improved the problem. The one option that I use is the auto feed and this printer does not have it. We are planning on returning since we did buy the extended warranty. Hope to replace with something that is much better. They are very expensive and not worth what they are asking.
Date published: 2019-09-26
Rated

4

out of

5
by
B o B T
from
Great quality, but print dialogs are confusing
The 2760 product prints really well, has a very low cost-per-print, and prints full bleed on a 8.5 x 11 sheet of paper, which are all things I was looking for. Yay. But... The print dialog options could not be more confusing. Between Apple (I'm on a Mac), Adobe (I print from InDesign), and Epson, I can't believe how convoluted the myriad places where printing settings or set. It's like 30 years of experience has fixed nothing for streamlined print settings. Hey you guys, just put all the settings in one, simple, dialog box please! I also bought this printer for two-sided printing but with all the whacko places you have to choose how to do that, I still haven't been able to get it to auto print on two sides of the sheet. I have sit there like a monkey and manually feed the sheet one side at a time. One thing I did find a bit unsettling, is an actual typo on the tiny little LCD screen on the printer, which reads "Rear Paper Feed to star printing." Really? The full bleed, the low costs to operate, and the quality of printing are enough to offset the downsides of this printer, but I really wish in 2019 we could have a whole lot simpler settings dialogs.
Date published: 2019-09-20
Rated

5

out of

5
by
Nikkib804
from
Awesome printer
I was excited to recieve the Epson EcoTank 2760. My first impression was the size and weight it's fairly small and light weight to be such a workhorse. This was my first time using a eco tank printer and I am loving the experience. Its easy to fill the ink tank and replacement ink isn't super expensive. I mostly print flyers, post cards, and business cards for my in home business and coupons for personal use. The speed and quality of the prints are great. It has been a while since I have printed photos but I will be checking it out soon to see if my Epson photo printer can be replaced as well. Overall great product
Date published: 2019-07-29
Rated

5

out of

5
by
Amanda0721
from
Beautiful print jobs!
The Epson-EcoTank ET-2760 prints extremely well compared to a competitors printer/scanner I have had for a few years. Upon receiving the printer the setup was extremely easy, all instructions were easy to follow and detailed. There are multiple steps to sync the printer with your computer and wifi but mostly it was just a few clicks. Putting the ink into the printer can be a little tricky because you can't see if it's overflowing on the top. It did claim to stop the flow itself, but the blue ink did go over a tiny bit. However the features of using the bottles and refilling the tanks makes me extremely happy!! I am getting more ink then I feel like I am in cartridges, and the cost is less. The printer prints pages super fast from my phone, computer, ipad, whichever device I decide to print from they all print just as fast. The scanner is simple to use as well. I love the Alexa feature, I just have to tell her to print something and it's done! The only thing I'm not as crazy about is the display screen size. It was much smaller then my other printer and does make it a bit difficult to read, input the wifi password, and know which symbol they are referring too. Overall, I highly recommend and love my new printer! This is a review for the Epson EcoTank ET-2760 All-In-One SuperTank Printer that I received free of charge to do a beta test and review.
Date published: 2019-07-28