text.skipToContent
text.skipToNavigation
EcoTank ET-3760 All-in-One Cartridge-Free Supertank Printer
Zoom In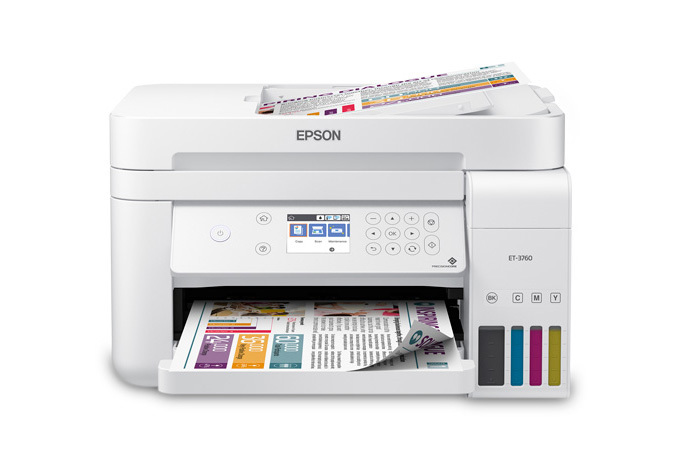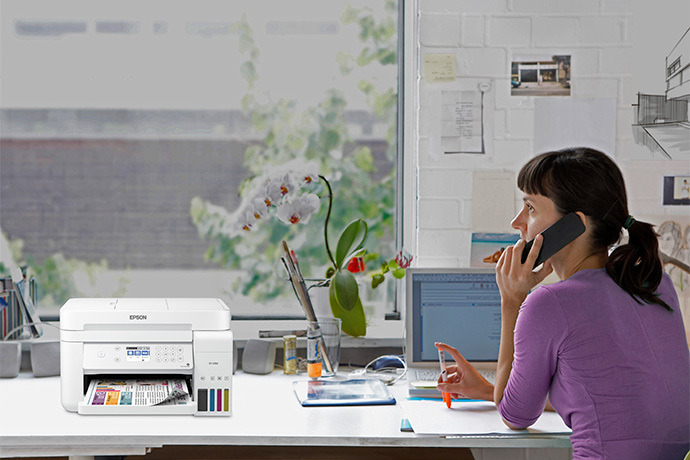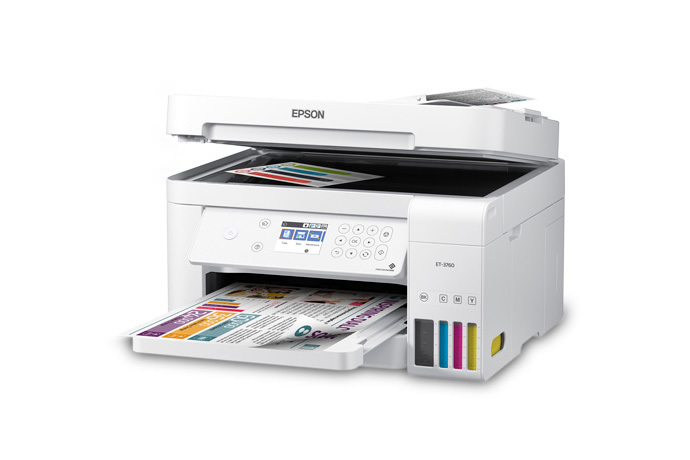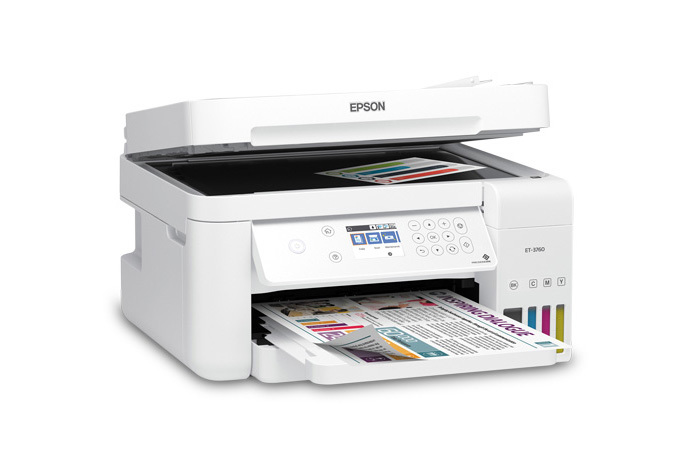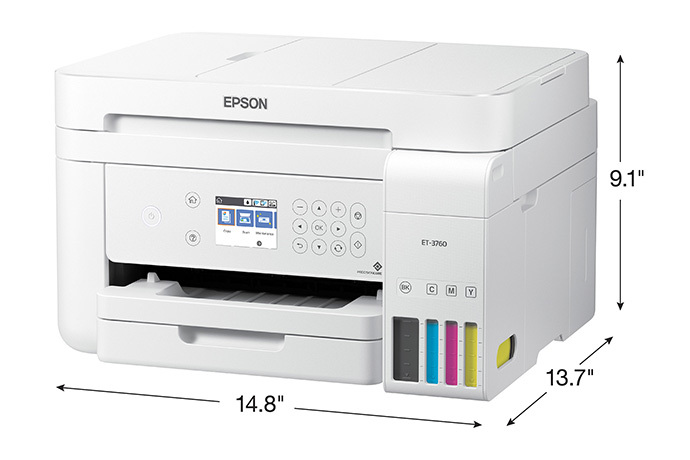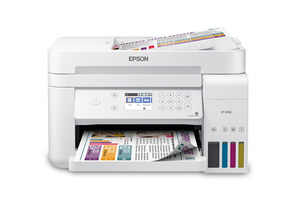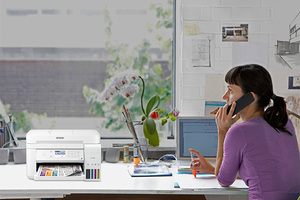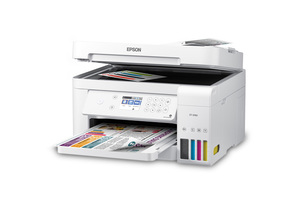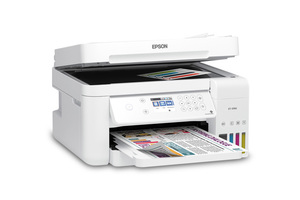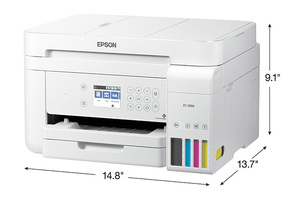 The wireless EcoTank all-in-one with Cartridge-Free Printing and Auto Document Feeder.
The EcoTank® ET-3760 offers Cartridge-Free Printing with easy-to-fill, supersized ink tanks. You can save up to 90 percent with low-cost replacement ink bottles – costing as little as 1 cent per color ISO page versus 20 cents with ink cartridges1. Plus, you can get up to 2 years of ink with the included or a replacement ink set2. Each replacement ink bottle set includes enough ink to print up to 7,500/6,000 pages (bk/clr)3 — equivalent to about 80 individual cartridges4. That means less waste. Uniquely keyed EcoFit™ bottles make it easy to fill each color tank. Powered by PrecisionCore®, this fast supertank printer offers a 150-sheet paper tray, 30-sheet ADF, voice-activated printing5, and wired and wireless connectivity.
3-in-1 with ADF, Wireless & Ethernet: Print / Copy / Scan
Ink: Four EcoTank™ Ink Bottles
ISO Print Speed: Black: 15 ISO ppm†; Color: 8.0 ISO ppm†

Model:

C11CG20203
After 13% savings:
$349.99
EcoTank ET-3760 All-in-One Cartridge-Free Supertank Printer
is rated out of
5
by
52
.
Rated

1

out of

5
by
patmurihy
from
Poor quality ink
After just a few months of limited use the printer stopped printing yellow ink. As a result print quality is horrible. The tank shows that it is still three quarters full. Nothing online to help and support too slow.
Date published: 2020-03-30
Rated

3

out of

5
by
dilbot
from
Printer is OK but missing some basic features
This printer could have been excellent, but it's missing the following compared to the HP line of the same price level: - USB port for data out on the front - firmware that allows for the IP/Netmask/Gateway/DNS to be changed on the printer, rather than having to use the software bundle on a controller computer - scanner control from the <hostname> webpage the way HP does it. I got this to work on linux with some tearing apart of the driver package rpm's, and I appreciate that the source code was available, but it would be best if Epson would put the tgz directly on the download site so that it's more easily accessible.
Date published: 2020-03-29
Rated

1

out of

5
by
Disapointed printer
from
Six minutes to print the TEST PAGE!
I bought this yesterday, returning it today. It took six minutes to print the test page, and 23 minutes to print one double-sided page. The print quality was extremely poor. Colors were faint (even the black) and images were not sharp.
Date published: 2020-03-21
Rated

5

out of

5
by
Drozilla
from
Best no-hassle printer I've ever owned!
Finally - a printer you won't hate. Sets up and then works effortlessly. Great-looking print-outs Refill the ink tanks once every year or two! Scans directly to your Dropbox Can be set to operate quietly Excellent queue management and maintenance user interface Multi-sheet copier and scanner works every time. Fairly priced for the performance and features. (Until you factor in the cost of the cartridges you won't be buying. Then it's crazy-inexpensive!) Does not make cappuccinos. Everything else - YES.
Date published: 2020-03-04
Rated

1

out of

5
by
KING OF TECH
from
WE WANT INK TANKS AND QUALITY PRINTING TOO!
Why produce a piece of trash printer just to push the inktank concept?? I returned an inktank model to Amazon failed in short order from a mysterious FATAL ERROR! IT WAS BRAND NEW. Where is quality control?? Inkjet printing should be bulletproof at this point!! Epson doesnt seem to even care. Keep your Customer Service platitudes as well. MAKE A DURABLE PRODUCT AND STAND BEHIND IT!
Date published: 2020-02-06
Rated

1

out of

5
by
Peter P
from
Terrible printer
I bought the 3760 January 2020. It felt a bit flimsy, but I can live with that. I like the idea of the EcoTank. However, it is an extraordinarily slow printer, both B&W and color. Scanning a multi-page doc results in each page in a separate document, and it does not scan 2 sided originals. The control panel is separate from the screen which is an inconvenience. I strongly do not recommend this product.
Date published: 2020-02-04
Rated

2

out of

5
by
Vignoramus
from
Tend to fail regularly.
I purchased an ET-3760 after a prior ET-4000 series printer juxt up and quit. 7 weeks later and this is reporting paper jams where there are none and it's simply put down to a 'hardware failure'. So, I return to epson and they replace with a 'refurbished printer'. Ask yourself; if a new car blew up in the first two months would you expect a new model or a used car off the lot? Poor quality product, now trapped in a loop af failures, returns and refailures... Would not recommend.
Date published: 2019-12-11
Rated

1

out of

5
by
Ranch
from
only works on 2.4GHz
most other printers work on both 5 GHz and 2.4. I did not know this limitation before buying and do not recommend this purchase
Date published: 2019-12-02
Rated

4

out of

5
by
Sherinzac
from
No Touch Screen for this Model-ET 3760
There is no touch screen for this model.It is wrongly mentioned in specification page
Date published: 2019-09-14
Rated

5

out of

5
by
HappyHappa
from
"The Epson ET-3760 Makes Quality, Home Printing Doggone Easy
"The Epson ET-3760 Makes Quality, Home Printing Doggone Easy!" - Boulder, The Photo Lab (Pictured) The Epson ET-3760 has changed the way that I think about home printers. With its compact, sleek and modern design, the Epson ET-3760 looks amazing in my home office while producing quality prints that look just as good as those that used to cost me a pretty penny to order from my local print center! The 4800 x 1200 dpi print resolution ensures that everything that I print is crisp, sharp and perfect every time! I put it to the ultimate test by printing a collage comprised of 2000 pictures from family trips over the past few years that come together to form my favorite picture of our "Photo Lab", Boulder, on a dock overlooking the lake. The results were frame-worthy! I was blown away by the vividness of the colors, the sharpness of the lines and all of the detail that the Epson ET-3760 was able to squeeze into each itty-bitty picture! In person, you can still see freckles on people's faces, all within a picture less than a quarter of the size of a Tic-Tac! I've included a picture of the print with this review, but in all honesty, my little phone camera doesn't do this print justice! In person, it is beautiful with quality way beyond what I thought was possible from a home printer! I'll never use another brand's printer, again! When I think about superior print quality, I've always thought that laser jet printers are a step above a typical "home-office" ink jet printer; as an avid crafter, this has always been disappointing to me as the paper that I often use is designed exclusively for ink jet printers. The Epson ET-3760 has proven my assumptions about ink jet print quality to be absolutely false. This printer, dare I say, is superior to my office laser-jet printer in terms of print clarity and sharpness. I recently hosted a few baby showers with "build your own onsie" bars. I created designs and printed them via the Epson ET-3760 on iron on transfer paper that the shower guests could then use personalize an outfit for the baby. With transfer paper, the quality of the initial print is absolutely crucial! If the ink isn't laid evenly, densely, richly and perfectly during the initial print, the finished product is often patchy and unsightly. Additionally, if the printer runs too hot during the initial print, the design (which is intended to transfer via the heat from an iron) seals to the peel-off backing, omitting those portions of the design from the finished product, and causing tearing to the transfer that makes it peel up later. I put the Epson ET-3760 to work by printing over 200 designs on this expensive transfer paper, praying for the best as I only had exactly the right number of onsies per guest- there was absolutely no room for error! The results were very happy guests and perfectly transferred, personalized designs to celebrate the coming little ones! The Epson ET-3760 is now the most valuable tool in my crafting arsenal! Out of the box, the Epson ET-3760's set up could not be more simple! It is honestly as easy as "plug-and-play." Epson's power cord seems to be a little bit longer than some of its competitors, giving me more freedom to plug it in where I want it instead of being so restrictively tethered so close to my available power outlet. After plugging it in, I decided to head over to YouTube where Epson America has generously posted a step-by-step setup guide. It took no time at all to install the software on my computer, set the printer up to my wireless network and to connect my devices! The 2.5" LCD touchscreen on the front of the printer is surprisingly bright, sharp and clear- it was easy to see even though I was setting it up at night in a low-light setting. Next came filling the ink tanks. I LOVE Epson's revolutionary tankless ink design! No longer do I need to desperately shake printer cartridges hoping to squeeze just a little more ink out of a cartridge that seems to dry up faster than I can use it! The tankless design ensures that I get to use every last drop of ink- and with the easy to view ink reservoir on the front panel of the printer, I'm never left guessing as to whether or not I have enough ink to complete a project! The sheer volume of ink provided out of the box (2 years worth), and the fact that the ink tanks are truly super-sized means that the Epson ET-3760 is both easy on my wallet and on our environment. Additionally, Epson has a wonderful recycling program for those empty ink bottles- talk about eco-friendly! My initial fears about spilling ink all over my office carpet were quickly quelled by the fact that the ink bottle has a slot that lines up perfectly with the ink reservoir and ensures that every last drop of that precious ink gets added to the ink tank without any wasting or spilling! Plus, the ink flow stops automatically when it reaches the max fill line, so there is no need to babysit it during set up! One of my favorite features is the wireless print capability! I can easily print night or day from my phone, tablet or laptop- and even easier- via voice commands from my Google Home and Amazon Alexa speakers! This is particularly useful when I'm in the kitchen cooking and remember something that I just know I'll forget to print later. I simply say "Hey Google, Ask Epson Printer to Print _____," and it immediately goes to work without me ever needing to put down my whisk! Now that is innovation that truly takes the cake! I also appreciate that this Epson printer prints double-sided as it saves paper, space and time! Its just one more way in which Epson is looking after my money and our environment! Another feature of the Epson ET-3760 that I cannot live without is the 30-page document feeder for scanning and copying! This is a feature that I thought was only available on those office laser-jet printers that take up an entire room. Never would I have thought that this kind of technology would be available in something that fits so compactly in my own home office. I definitely put the copier and scanner to the test when I volunteered to digitize a bunch of pictures from old family photo albums. I was dreading the task, but the Auto Document Feeder made it easy to accomplish without needing to babysit it or scan the photos one-by-one on the scanning bed. I saved a substantial amount of time and the scans turned out simply beautiful! Copying is a breeze as well, particularly due to the addition of the document feeder. I'll never pay a print center to make copies, again, thanks to the Epson ET-3760! Overall, I am an Epson fan for life and highly recommend the Epson ET- 3760 to my family and friends! From the wallet and eco-friendly, cartridge free ink design -- to the wireless, voice-activated capabilities -- to the quick and efficient 30-page auto document feeder for scanning and copying, this home-office super machine has implemented technological innovations that have exceeded my wildest imagination! The vivid, true-to-color, sharp and crisp print quality are second to none and ensures that every project- whether its text or photo/image based, looks like it has come straight out of a professional print center! To quote Boulder, The Photo Lab: "The Epson ET-3760 Makes Quality, Home Printing Doggone Easy!" "This is a review for the Epson EcoTank ET-3760 All-In-One SuperTank Printer that I received free of charge to do a beta test and review."
Date published: 2019-08-09