text.skipToContent
text.skipToNavigation
EcoTank ET-4700 All-in-One Supertank Printer
Zoom In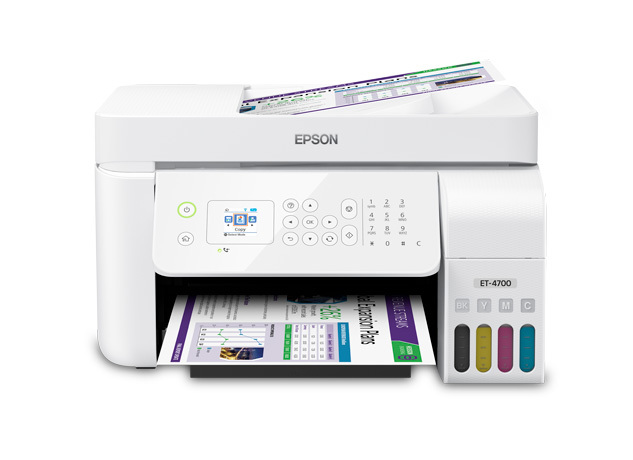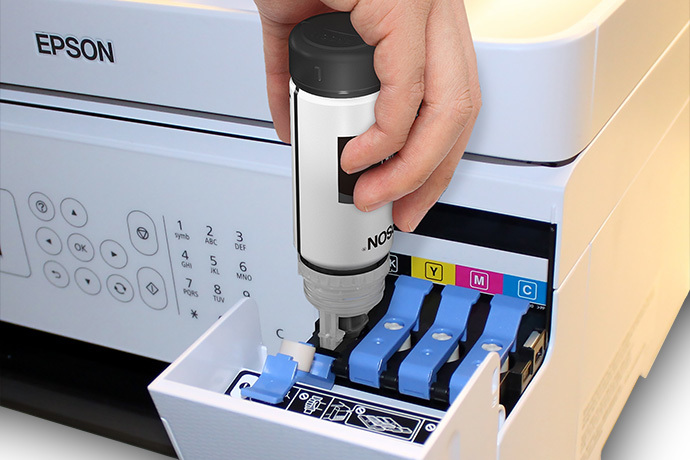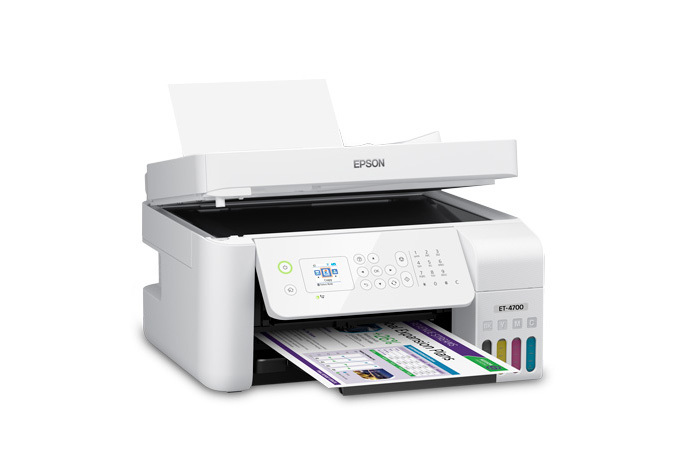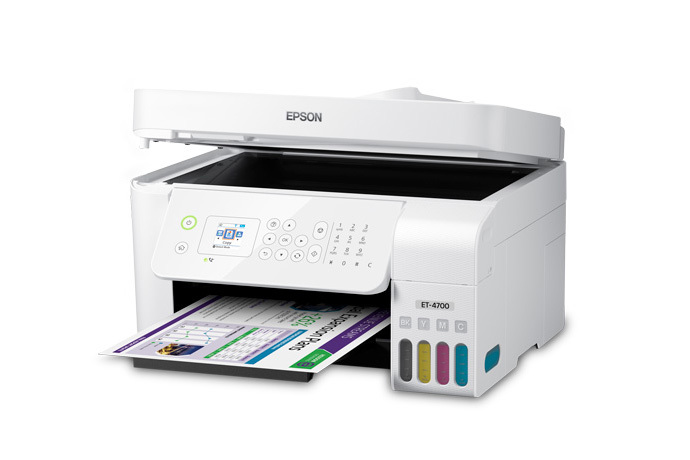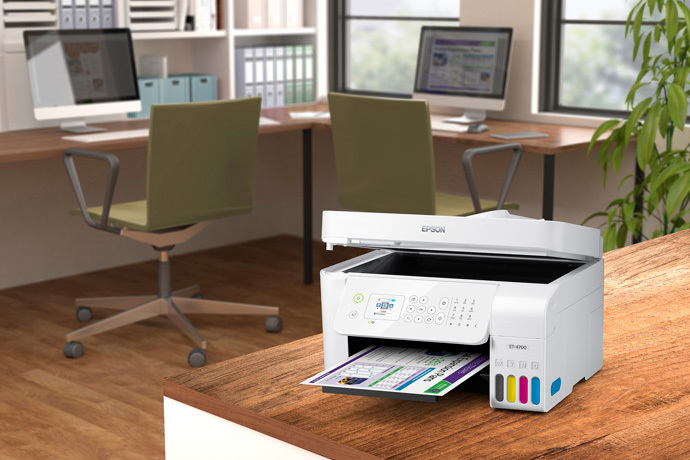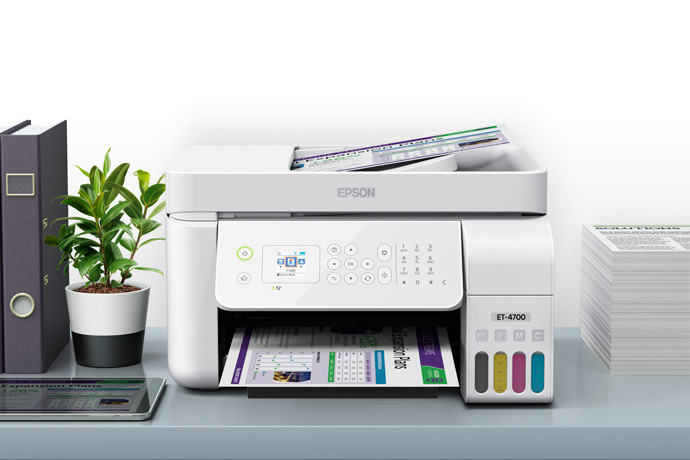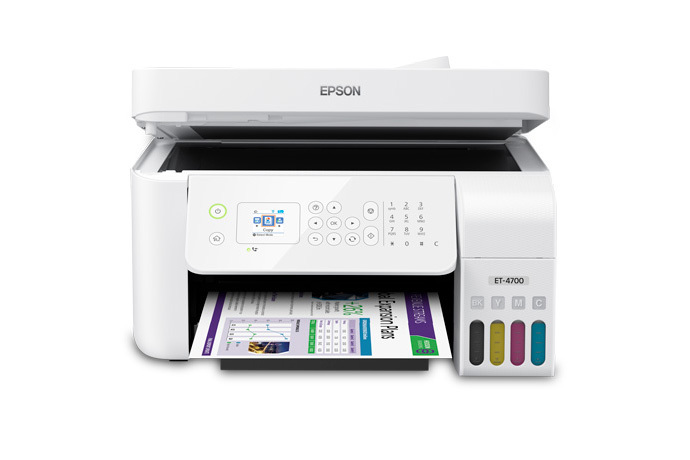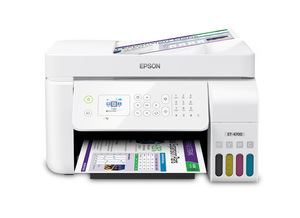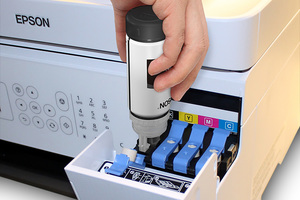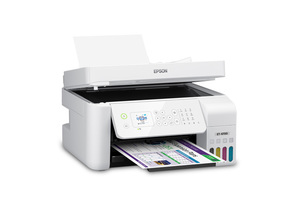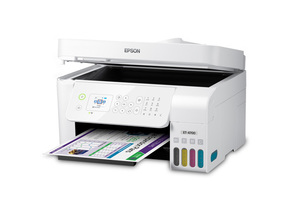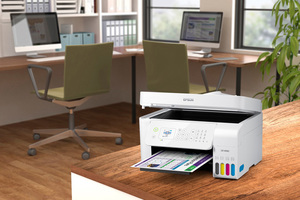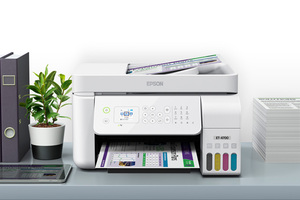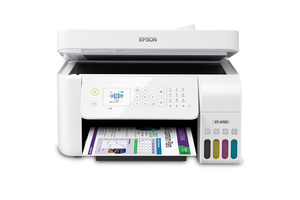 The wireless all-in-one with cartridge-free Printing, ADF and fax.
The EcoTank ET-4700 wireless all-in-one supertank printer offers cartridge-free printing with easy-to-fill, supersized ink tanks. You get up to 2 years of ink with each included or replacement ink set1. And, each replacement ink bottle set includes enough ink to print up to 4,500 pages2 – equivalent to about 80 individual cartridges3. Plus, you save up to 80 percent with low-cost replacement ink bottles vs. ink cartridges4. That means less waste. Exclusive uniquely keyed EcoFit™ bottles make it easy to fill each color tank. The ET-4700 also offers a 30-sheet ADF, wired and wireless networking and a 2-year limited warranty with registration5.
4-in-1 with ADF, Wireless & Ethernet: Print / Copy / Scan / Fax
Ink: Four EcoTank™ Ink Bottles
ISO Print Speed: Black: 10 ISO ppm†; Color: 5.0 ISO ppm†

Model:

C11CG85201
EcoTank ET-4700 All-in-One Supertank Printer
is rated out of
5
by
45
.
Rated

1

out of

5
by
j12345
from
Don't waste your money
I purchased this online through Target after a huge sales pitch from Staples, of how wonderful it was (but Target had better price). This is complete junk. The print quality is horrible. When the tanks are at 50% the ink doesn't work. I have had more trouble networking it than anything I have ever owned. There are unending updates that keep popping up and unlike other devices there are countless buttons to select just to get it to upload the updates...huge time waster and then 50% or more of the time, it indicates it's unsuccessful. Absolute garbage and I feel tricked in purchasing it.
Date published: 2020-03-10
Rated

1

out of

5
by
seniors2000
from
not good
top loader not working day one, wifi and hard wire connection not working.
Date published: 2020-02-02
Rated

1

out of

5
by
qwertyu7iop
from
Very poor support - Copy function does not work
ADF icon lights saying there are documents in feeder to copy, yet when you push copy button, it tells you to place original on glass.
Date published: 2019-07-01
Rated

4

out of

5
by
ode2k
from
Great Multi-function printer with a huge ink supply
The EcoTank ET-4700 printer is a great little printer. It has a relatively small footprint and holds a lot of ink. I love the easy to fill, large EcoTanks, and it's a bonus that there is so little waste compared to standard inkjet printers. The build quality of the printer seems to be light, but structurally sound. Instead of a lower paper tray, the feeder is in the back, which allows it to be a little smaller. The print quality is great in both color and black. The speed of photocopying and printing are great. The printer isn't as quiet as a laser printer, but is on par with other inkjet category printers. The color LCD display is easy to navigate and operate the necessary functions. This is a review for the Epson EcoTank ET-4700 Supertank Printer that I received free of charge to do a beta test and review.
Date published: 2019-05-29
Rated

4

out of

5
by
shar4489
from
Great Printer. Huge Savings On Ink.
Unboxing the printer In the box you get the printer, documentation (Setup and User Guide), ink and the software installation CD. Once the printer is removed from the box it just takes minutes to remove the tape and other packing materials from the printer. After removing all of the packing material, I reviewed the setup instructions and found that they were very helpful and precise. The step by step instruction provided in the box was very easy to follow for the initial setup before turning on the printer. Filling the ink reservoirs was very easy and no mess was seen while adding the ink to the reservoir. Print quality is outstanding. No fade or spots, ink dry very fastly after printout, No leakage, no smears or streaks. The speed of the print is also reasonable. Don't compare with a laser printer in the case of photos, at the same time a normal color print is awesome. The printer operation is not very noisy. We do not have option to select two-side printing from touch screen, but we can select two-side printing from desktop print settings. This is a review for the Epson EcoTank ET-4700 Supertank Printer that I received free of charge to do a beta test and review.
Date published: 2019-05-28
Rated

5

out of

5
by
Rebecca F
from
Innovative & Economical
The Epson Eco Tank ET 4700 all in one printer is innovative and cost effective! Out of the box it was very easy to set up to my home network. All of my devices were WiFi connected in no time at all. I love that I can print from my phone (using the Epson app), my tablet and laptop, and a really cool feature of this printer is it also has a dedicated email address! All you need to do is email the printer and it will automatically print for you, very convenient! The size is perfect for the home office, it is small, compact and does not take up too much space. Everything seems well-built and looks high-end. This model fit perfectly on my printer stand. This all-in-one machine prints, scans and faxes. It has a 30 page auto document feeder and a hundred sheet tray. It also has a nice large screen for manual operation that is super easy to use. And while the Eco tank prints super fast with bright vibrant color, I think the most important feature for me is the large ink tanks. I love that I will never have to buy cartridges again and that this printer can hold enough ink to last for up to 2 years! How Amazing is that! Honestly, I was a little skeptical at first, thinking I might make a huge mess when trying to fill the tanks with these large ink bottles, but to my utter suprise they are leak proof and fit right into place without a drop of ink escaping anywhere other than where it was suppose to go! You can not overfill the tank as it auto shuts off when full. You cant even screw up by putting the wrong color in the wrong tank because each bottle is designed to only allow the correct colours to be inserted. This is going to save me soo much money on ink and not to mention the frustration of having to run out every month and buy a new cartridge! I love that Epson put much thought and attention to detail when it came to designing this Eco-Tank printer. Very impressive to say the least! This is a review for the Epson EcoTank ET-4700 Supertank Printer that I received free of charge to do a beta test and review.
Date published: 2019-05-28
Rated

5

out of

5
by
iarunner
from
A definite improvement over previous models
Initial setup is pretty much the same as any other printer, the only exception being the ink if you've never used an EcoTank before. Following the directions on filling the tanks and charging the ink lines is pretty straightforward. The ink bottles and tanks are keyed to prevent putting the wrong color in the wrong tank and are made to prevent any spills. Connecting to the network and installing the software went very smooth. Epson has definitely fixed some problems found in earlier models. I had no issues installing on Windows 7, Windows 8.1, Windows 10, and Linux Mint. I was very happy with the use of this printer. Printing from a mobile device can be slow at times but otherwise it was great. Scanning and copying was pretty much equal to or better than similar printers. Printing from a computer was fast and the quality was very good. Pictures printed on standard paper were as good as can be expected and on photo paper were excellent. Text was nice and crisp and colors were true. Noise levels were about the same or slightly lower than your standard inkjet printer. All in all this is a very good printer. After using this printer for a good portion of my daily printing for the last week the ink levels haven't changed noticeably. With what looks like reasonably priced ink this printer could easily make up for the higher price with lower ink costs. This is a review for the Epson EcoTank ET-4700 Supertank Printer that I received free of charge to do a beta test and review."
Date published: 2019-05-28
Rated

4

out of

5
by
Encino Stan
from
Great printer for student or home use
EcoTank is a great idea. Previous printer needed expensive cartridges 3 times a year. I like the small size, small footprint doesn't take a lot of space on desk. . Setup was very easy. Can be connected WiFi, USB, or wired to LAN. Printing from mobile works good; can print from cell phone or tablet. Also does cloud print, supporting both Epson cloud and Google Cloud Print. Auto Document Feeder (ADF) is nice to have. Good quality printout and not to noisy. Negatives. Small LCD screen is very hard to read. Maybe if it was monochrome and higher resolution would be better than low res color. Printer has ADF for copies and scan, but doesn't do 2-sided to 2-sided copies. Only had Letter size scanner; will not do Legal size. Overall, I would recommend this for a student or home use needing a mid-range printer. 4.5 Stars. This is a review for the Epson EcoTank ET-4700 Supertank Printer that I received free of charge to do a beta test and review.
Date published: 2019-05-28
Rated

5

out of

5
by
jen88
from
High quality with true remote printing
I'd love to give this printer a 4.5 — It is a really really solid multi-use printer, but it is by no means 5-star perfect. I can't, so I will be rounding up to 5 stars anyway. Coming out of the package, it is a beautiful machine. It was easily set up and connected to both the computer and the wifi, but the update that happened after that took just over half an hour at my house. The packaging was significant enough to keep the printer safe, but not overwhelming. Inside was the actual printer, the necessary cables, four bottles of ink, a cd of drivers and a book of instructions. The biggest difference I found between the EcoTank and the Epson printer I already owned, was the tank that it's named for. Instead of the standard cartridges that I was replacing frequently, this comes with bottles of ink with nozzles that are "keyed" to only fit/dispense into the correct tank. This initially made me very nervous since it requires actually turning the bottles of ink completely upside down, but I was pleasantly surprised that the did not leak at all (either initially or when removing them from the printer once they had dispensed the ink). Another great feature is that the tanks do not overfill, and the ink will stop flowing into the printer when it is full, leaving the remainder in the sealed bottle for future use. The other key difference was that while I was still able to print over wifi, I am also able to print truly remotely. The printer has a dedicated email address and whatever you email to it will print and be waiting for you when you get there. I LOVE that it sends me an email response to let me know when the printer receives the message and another when the print job has been successfully completed. As far as things that could be done better go; they are few and far between. I would have appreciated an app that was just better. I was unable to successfully print through the app once remotely — not a huge deal, as I have the emailing option, but I would like it to work since it exists. My second minor note is that there is not automatic paper feed for scanning. It doesn't come up often for me, as I rarely need to scan more than a couple pages, but I could see it being a problem if that was something that was done often. Otherwise, my biggest complaint is the lcd menu screen. It is TINY - like, put-on-my-glasses tiny. There is a lot of information accessible through there and built-in troubleshooting, but it is difficult to navigate given its minute size. I think this is most annoying to me because the space that it is on offers plenty of space for a bigger screen. Overall, a really really nice printer. The print quality is gorgeous, as I have come to expect from Epson products and it boasts that each set of ink contains more than a year's worth of printing, and I'm very much looking forward to not needing to run out to get ink as frequently. This is a review for the Epson EcoTank ET-4700 Supertank Printer that I received free of charge to do a beta test and review.
Date published: 2019-05-26
Rated

5

out of

5
by
Nikegyrlz
from
Awesome Printer
This printer was so easy to setup compared to other brands that I have used. I really like the eco-tank concept, not to mention it is less costly than ink cartridges. Step-by-step instructions were easy to read and understand. Filling the tank is simple; each color has a custom fit opening that the bottle sits in while the ink is loading into the tank system. This allowed me to not have to hold the bottle nor did I have to force the bottle into the openings. Once all 4 tanks were filled, it was time to start the ink charging; this was the longest part of the printer set-up since it took about 10-15 mins. After ink charging was completed, I loaded my paper and did all my test printing pages and alignments. Setting up the printer to print from my smartphone was super easy. I downloaded the Epson iPrint app and I was good to go. I was able to print from my desktop, laptop and smartphone with no issues at all. Printing is not loud at all and ink settles on the paper with no smudges, blotches or skipped spots. This is a review for the Epson EcoTank ET-4700 Supertank Printer that I received free of charge to do a beta test and review.
Date published: 2019-05-25