Taking Performance to the Next Level
GX-Series SCARA robots offer superior performance to meet the most demanding high-tech automation needs. These top-of-the-line, innovative, slimline design robots can complete complex work while operating at the highest speeds within a compact footprint.
Features & Benefits
In addition to offering high throughput with large payloads, GX-Series robots have several unique features and benefits to create powerful automation solutions.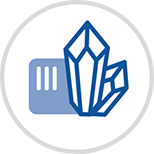 Introducing GYROPLUS Technology
GYROPLUS technology, a proprietary Epson innovation, uses embedded quartz crystal sensors to provide real-time feedback to reduce residual vibration, with no ringing or overshoot. With GYROPLUS, GX-Series robots are able to offer better performance with faster dampening of vibrations.
Built for the Most Demanding Conditions
In addition to offering ultimate design flexibility with variable arm reaches, arm styles, and mounting options, GX-Series robots provide state-of-the-art configurations to serve a variety of industries and to handle challenging environments with ease.
Thank you for your interest in Epson. To subscribe and receive promotional emails, please visit Epson Global to find your local site.