text.skipToContent
text.skipToNavigation
WorkForce ES-400 Duplex Document Scanner
Zoom In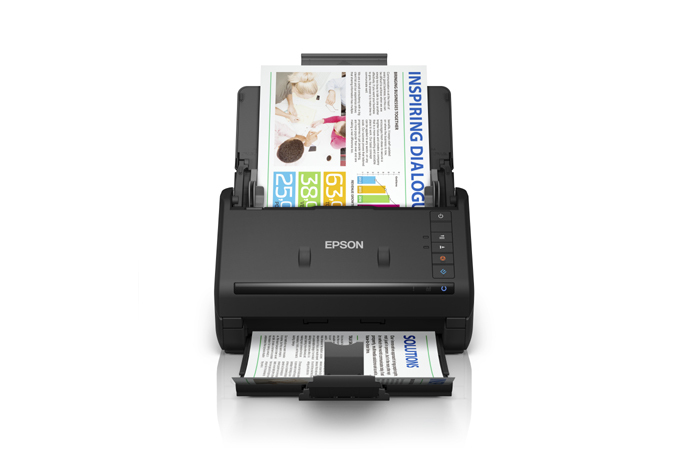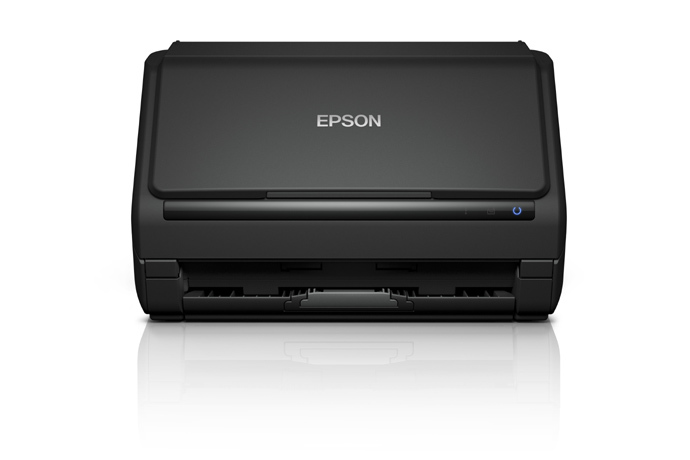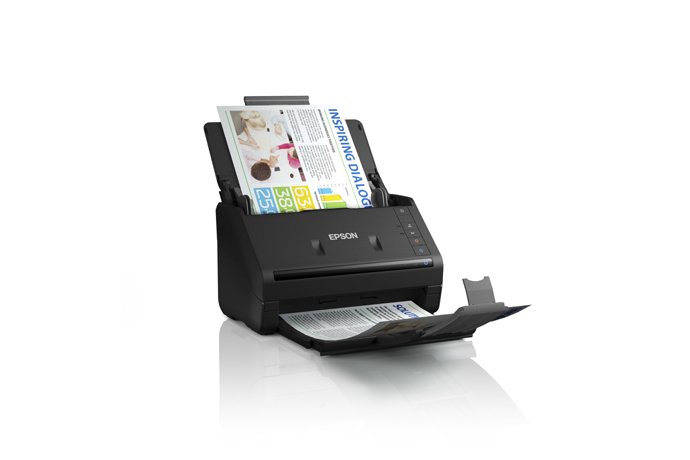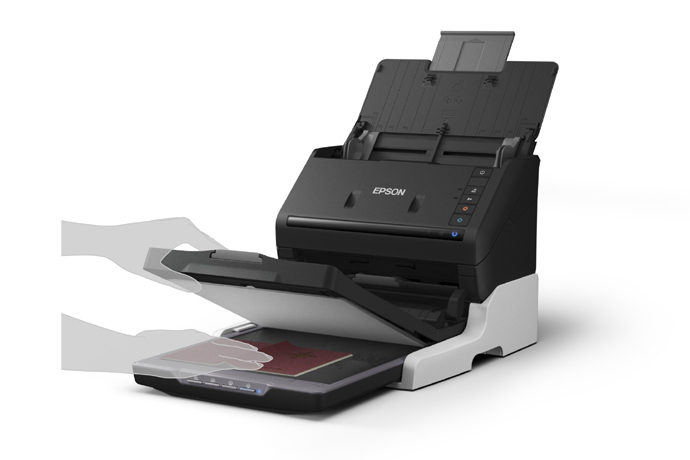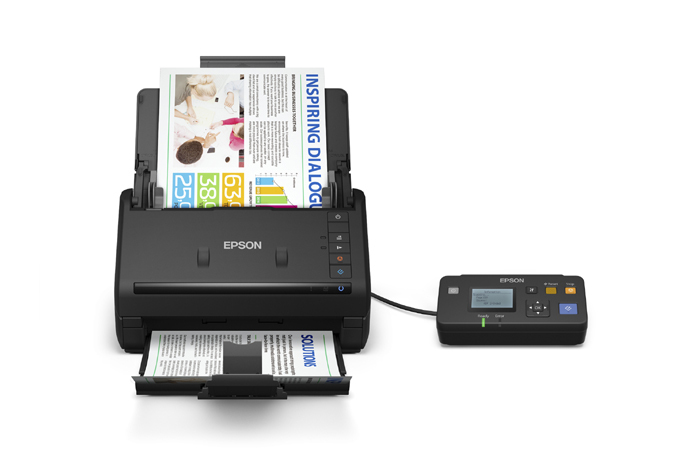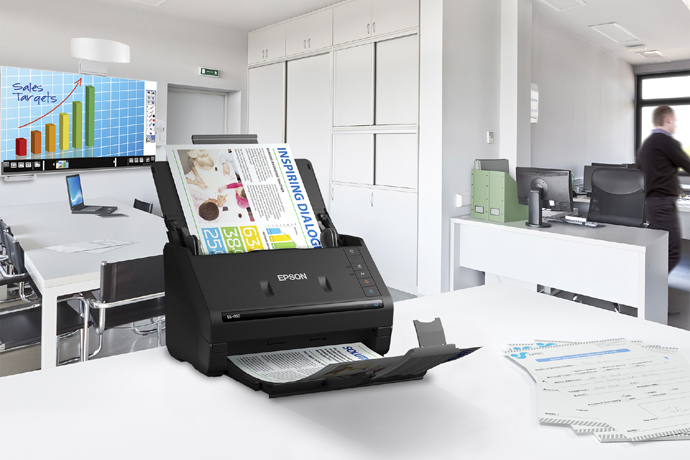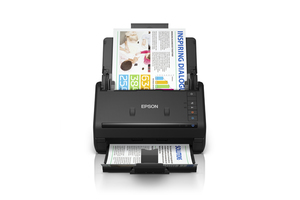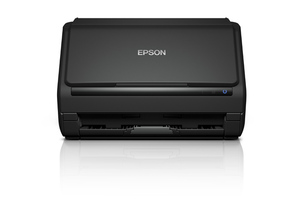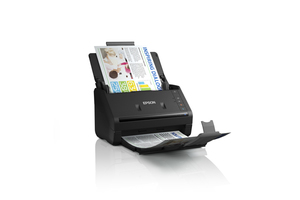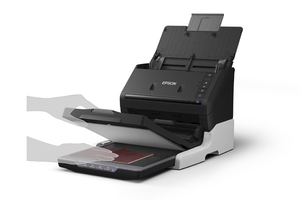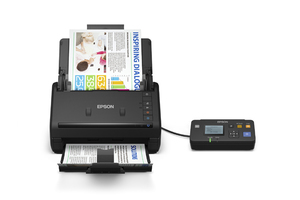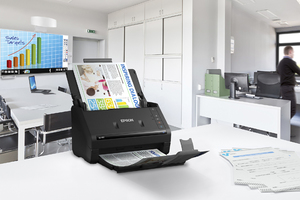 The powerful document scanner for quick and easy organization.
Get organized fast with the WorkForce ES-400 duplex document scanner. Perfect for the home or office, this reliable, easy-to-use performer boasts speeds up to 35 ppm/70 ipm1 with Single-Step Technology, which captures both sides in one pass. Its 50-page Auto Document Feeder allows you to breeze through stacks of documents — from business cards to receipts, extra-long pages, and more. Scanning to cloud storage accounts2 like Dropbox™ and Google Drive™, or to searchable PDFs and editable Word and Excel® files, is simple. For added value, this compact scanner includes Epson® ScanSmart Software2, plus a TWAIN driver for compatibility with virtually all document management software.
Fast, easy 2-sided scanning up to 35 ppm/70 ipm1
Scan stacks of docs — 50-page Auto Document Feeder
Epson ScanSmart Software2; built-in Nuance OCR
Compatible — TWAIN driver included
Scan to editable documents and searchable PDFs

Model:

B11B226201
After 18% savings:
$269.99
WorkForce ES-400 Duplex Document Scanner
is rated out of
5
by
333
.
Rated

1

out of

5
by
neveragain1
from
WOULD NOT RECOMMEND!
The scanner is great initially, but I am on my second (and last one). The first one was great for first 6 months and then it just stopped working, wont recognize documents being loaded. Thought I would give another a try because when it works it was great. so bought a second one. It is now 7 months and this one is now doing the same thing. wasted enough- will not buy again!!
Date published: 2020-04-03
Rated

4

out of

5
by
adwinfree
from
DC-510 model in the ES400 box
I intended to purchase the ES-400 from OfficeMax. when I returned to our pharmacy, I opened the box and the incorrect scanner, DC-510, was in the box. The box was sealed when purchased so It was not an OfficeMax error but a manufacturing error. We took it back and acquired a replacement which was correct.
Date published: 2020-03-31
Rated

1

out of

5
by
Ken O
from
Very Poor Customer Service
I purchased the ES-400 because I have to scan documents that are mixed letter and legal size paper. When I print the documents they all print letter size. I contacted EPSON 3 days ago and the service rep said they were updating their system and she would call me back. I have not heard from anyone. This is very poor customer service. I 9a scanner that is completely useless and it is costing me money.
Date published: 2020-03-30
Rated

5

out of

5
by
lifeisgood
from
Fast, easy to use - perfect tool to digitize my life
I've been putting off this overwhelming project to digitize everything in my and my kid's life - I live in small condo so not much room for the 15 or so bankers's boxes filled with so many artifacts of life so decided to give the Epson ES400 a try. The setup was so easy and now I'm scanning everything and organizing into folders on a pin drive. It's amazing how it took a global pandemic to give me the motivation (and the time) to get started on this very important project that I've been thinking about and stressing about for so many years. Also bought an Epson flatbed scanner to scan oversized items or things that won't fit thru autofeed. Thanks Epson!
Date published: 2020-03-29
Rated

1

out of

5
by
UnhappySherry
from
Very poor design
The WorkForce ES-400 I am currently using is a replacement. After just a few months, the original unit started giving notice that the cartridges were out of paper when they definitely had paper that I reloaded multiple times. I contacted Epson and they sent a replacement (refurbished) unit, which had the same problem. I then had to wait for Epson to send a "new" unit. All this time I had no printer to use for my job. The ES-400 has two paper cartridges. I use #2 for legal paper The cartridge is not long enough to fully load legal paper, so I have to put in a few pages at a time and push it closed with paper still overhanging. Sometimes this works; sometimes not - like today. It took approximately 20 minutes to print 8 pages. I finally had to use the rear paper feed, which also was a challenge, due to several pages of paper having jammed in the unit while trying to use cartridge #2. Also wasted about a dozen sheets of legal paper. This Epson product is probably the worst all-in-one unit I have ever used over many years. When this one quits - again - I will probably put my work on hold if the local Staples does not have a better brand in stock and wait for delivery.
Date published: 2020-03-27
Rated

5

out of

5
by
Miss Annette
from
Easy set up.
Due to Covid 19, everyone had to work from home. This screener was purchased for me because it was a necessity for my job duties. I had no problems set it up and did not need any help from anyone.
Date published: 2020-03-24
Rated

5

out of

5
by
Wayne1594
from
SMOOTH AND EFFORTLESS
For years, I had a competitor scanner. But time for a new one; so two choices. Go with the Brand I had for years, or try to Epson 400. First, it was the price that attractet me and now that I have used the ES-400 for a month, if I had known how smooth and effortless it was to use, the quality of the scanner would have sold me alone. The scanner app - Epson ScanSmart is great to use and the scanner easily connects to a Neat program I use. Thanks, Epson. My home office now has an epson printer and scanner - the best.
Date published: 2020-03-24
Rated

5

out of

5
by
LauraS5280
from
Fast scanning, user-friendly software
I bought this scanner because the scanner in my wireless all-in-one printer was driving me crazy. This scanner works well. It is fast and I really like the software, which is so easy to use. I opted for the usb connection over other wireless options to avoid issues with connectivity which I previously encountered.
Date published: 2020-03-20
Rated

5

out of

5
by
MLee99
from
Great Quality and Efficient
I bought the Foot Scanner for my mom to scan old pictures and loved it so much that I bought this for our office, we purchased 4 of them and our office staff thanks us daily because they are so fast and do not jam!
Date published: 2020-03-20
Rated

5

out of

5
by
Rayleen
from
This was so easy
I needed to hook up my scanner that I bought a few years ago to my new computer and googled it, found this website. Thank you, Thank you, Thank you. This was very easy for a non-tech person like me. Thanks.
Date published: 2020-03-20